AQRSD
| | |
| --- | --- |
| Air Quality Research Seminars and Discussion | |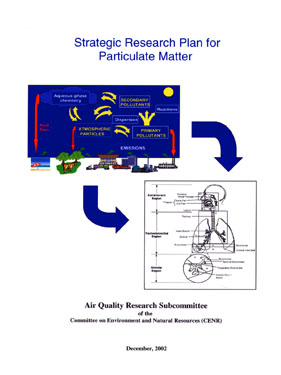 Table of Contents
List of Acronyms
Strategic Action Plan
Research Components and Focus Issues
Human Health Effects
Exposure Relationships
Ecological Effects
Air Measurements
Atmospheric Processes and Modeling
Source Characterization
Control Technology
Accountability
Paradigm and Research Overlay: Key Questions and Impacts
Key Research Questions and Example Impacts of Agency Research
Integrating Research Strategy
Member Agency PM Research Program Descriptions
References
This report, a synthesis of the Air Quality Research Subcommittee (AQRS) Particulate Matter Research Coordination Working Group discussions during the November 2001 through May 2002 meetings of the AQRS, provides a strategic plan for federal research on the health and environmental effects, exposures, atmospheric processes, source characterization and control of fine airborne PM.
The report summarizes our current understanding, highlights recent accomplishments and identifies some of the key information gaps in science to support public policy on PM, focusing on a set of policy relevant science questions and the intended impacts of ongoing Federal research to answer these questions.
It is one of a series of such reports that the Subcommittee believes will help to ensure the productive integration of air quality research across the member agencies.
---

AQRSD Home | Reports | Members | Meetings |
NOAA Research Chemical Sciences Laboratory
| Privacy Policy | Accessibility | Disclaimer | |
---