Scientific Assessment of Ozone Depletion: 2010
Figures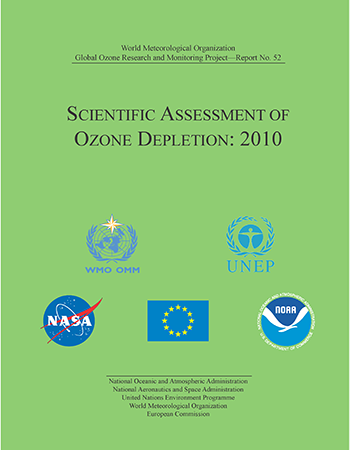 The prologue and chapter figures are available for download, in high resolution JPG format. Figures from this report are in the public domain and may be used with proper attribution to source. Refer to the citation information for reproduction.
Prologue: State of the Science through the 2006 WMO/UNEP Assessment (A.R. Ravishankara, Paul A. Newman, John A. Pyle, and Ayité-Lô Ajavon)
Chapter 1: Ozone-Depleting Substances (ODSs) and Related Chemicals (Stephen A. Montzka and Stefan Reimann)
Chapter 2: Stratospheric Ozone and Surface Ultraviolet Radiation (Anne Douglass and Vitali Fioletov)
Chapter 3: Future Ozone and Its Impact on Surface UV (Slimane Bekki and Gregory E. Bodeker)
Chapter 4: Stratospheric Changes and Climate (Piers M. Forster and David W.J. Thompson)
Chapter 5: A Focus on Information and Options for Policymakers (John S. Daniel and Guus J.M. Velders)
Twenty Questions and Answers About the Ozone Layer: 2010 Update (David W. Fahey and Michaela I. Hegglin)
Expanded figure download selection.