SCENTS 2022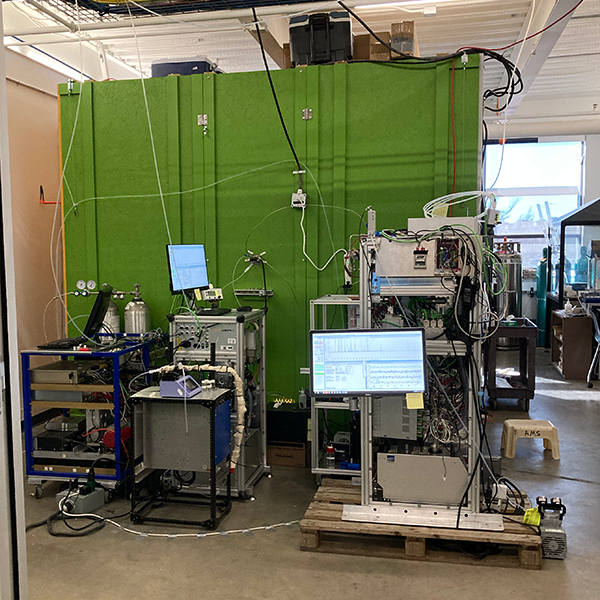 What: Secondary organic aerosol Chamber Experiments for Non-Traditional Species (SCENTS) 2022
Where: CSU Science Chamber
When: Spring and Summer 2022
How: Chamber measurements
Who: Researchers from the NOAA Chemical Sciences Laboratory (CSL), the University of Colorado Cooperative Institute for Research in Environmental Sciences (CIRES), and Colorado State University (CSU)
---
Glycols and glycol ethers have been found to be one of the major contributors to ozone formation of emissions from volatile chemical products (VCPs), but the oxidation chemistry of glycols and glycol ethers leading to ozone, secondary volatile organic compounds (VOCs), and secondary organic aerosol (SOA) formation is insufficiently known.
Great progress has been made towards understanding the capabilities of the VOCUS-PTR-MS and the VIA LToF-CIMS to quantitatively detect VCP emissions of glycols and glycol ethers in the gas-and aerosol phase. Furthermore, CSL has the in-house capability to examine the aerosol composition with an HR-ToF AMS. Detecting VCP oxidation products is not yet possible as these compounds are not commercially available and have to be generated in the laboratory by oxidation experiments. This project will provide a unique opportunity to study these oxidation products, which is necessary preparation for AEROMMA. Chamber measurements would also give an opportunity to further field test the new VIA LToF-CIMS instrument with our HR-ToF AMS and many ancillary measurements before AEROMMA science flights in 2023.
The results from the experiments will be used to evaluate and improve reduced gas-phase chemical mechanisms and SOA parameterizations used in WRF-Chem, so that we are prepared for AEROMMA 3D modeling analyses.