Where: Los Angeles, California and Las Vegas, Nevada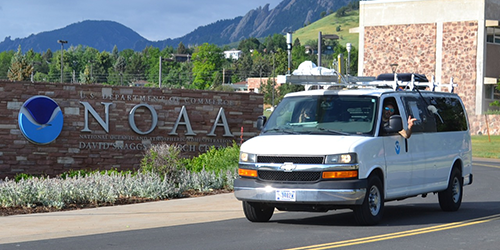 When: Summer 2021
What: Due to the postponement and in preparation for the NOAA WP-3D aircraft measurements planned for AEROMMA, NOAA CSL will conduct mobile laboratory and ground site measurements in Los Angeles and Las Vegas in collaboration with university colleagues and stakeholders to provide surface observations to answer some of the main AEROMMA science questions.
Who: Investigators from the NOAA Chemical Sciences Laboratory, the University of Colorado (CU) Cooperative Institute for Research in Environmental Sciences (CIRES), the University of California Berkeley, and the California Institute of Technology (CalTech).
Our stakeholders are the California Air Resources Board (CARB) and Clark County Department of Environment and Sustainability (DES). Clark County's main interest is to understand the seasonal cycle of ozone in Las Vegas. Ozone peaks in late June and then decreases throughout the summer. Volatile chemical product (VCP) emissions, boundary layer dynamics or biogenic emissions change at high temperatures are of interest to them. CARB's main interest lies in updating emission ratios of volatile organic compounds (VOCs) not routinely measured by their network.