Research
Intercontinental Transport
One of the goals of the 2004 study is to better understand the chemical transformation and removal processes of aerosols, oxidants and their precursors during intercontinental transport. This information forms the basis for understanding the impact of anthropogenic emissions on regional and global climate and air quality. In order to provide the information to make this understanding possible, it is necessary is systematically study an air mass as it moves from continent to continent. The capability to make this ground-breaking study possible will be available for the first time in 2004.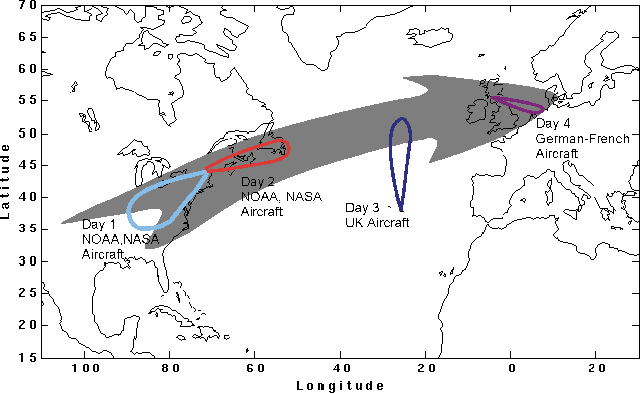 This schematic diagram shows the path of a polluted airmass advected from North America to Europe (gray arrow) and the proposed flight tracks for the NOAA, British and German aircraft.
During the 2004 study, it will be possible to combine data from the multiple observational platforms of the ICARTT consortium aircraft that are collected at different stages during the transit of a polluted air mass across the North Atlantic to investigate the chemical evolution during transit in detail. The data from satellite platforms will be available during the summer 2004. This data will provide information on the spatial and temporal evolution of several key pollutants and their precursors, as well as, the meteorological conditions over the entire North Atlantic. With this information, the model forecast capabilities available during the 2004 study will allow the chemical and meteorological conditions needed to undertake this investigation to be predicted sufficiently far in advance so that the aircraft can be deployed to the proper locations.
2004 Implementation Plans: