Weather Forecasts
Daily Weather Summary
June 19, 1999:
Surface high pressure system to our NE moving away, as first in a series of 500 mb shortwave troughs approaches TN this afternoon. Ahead of this trough, 850 mb winds will be southerly today, at 10-13 kts, with winds near the surface more SEly, at 5-10 kts. With increase in moisture due to southerly flow, expect Cu clouds to form this afternoon, with some high clouds also approaching from the west. There may even be some scattered light showers, but most areas remain dry. High: 83 Low tonight: 63 Mixing height: 2400 m MSL.
Tomorrow's Forecast
June 20, 1999:
High pressure begins to move off the New England coast, as a 500 mb shortwave trough approaches TN from the west. In response, winds at surface veer around out of the South, at speeds of 5-10 kts. Also, moisture increases ahead of shortwave, so some increase in cloud cover is expected for Saturday. Lift will be weak, so only a small chance of a shower Saturday afternoon into Saturday night. High: 82 Low: 62
Day after Tomorrow Forecast
June 21, 1999:
Another in series of 500 mb shortwaves approaches on Sunday, so partly cloudy skies and a chance for mainly afternoon and evening showers will be in the forecast again for Sunday. High: 83 Low: 64
Outlook
June 22 - 25, 1999:
Clouds should become more scattered again by Monday and Tuesday, as 500 mb shortwaves move away. However, more typical summertime southerly flow sets up next week, bringing hotter and more humid weather and widely scattered afternoon and evening thunderstorms. Highs: near 90 Lows: 65 to 70
Profiler Plume Depiction
The following shows a depiction of plume locations as predicted by the profiler winds assimilated into a one-dimensional boundary layer model. The top image shows particle positions as of 8:00 PM CDT for particle releases beginning at 12:00 Noon. The lower image shows particle positions at 7:00 AM CDT for particles released beginning the previous noon.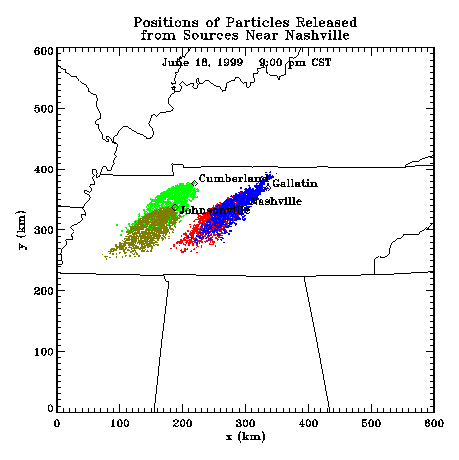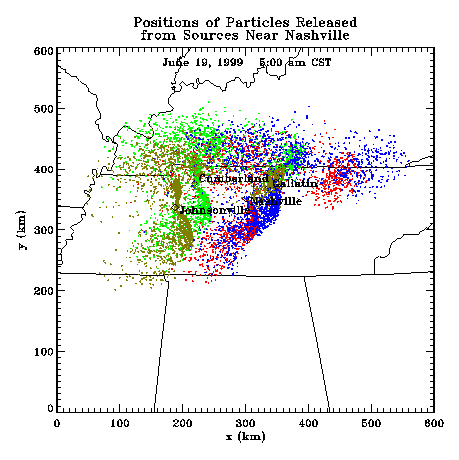 Forecast Plumes
The following gives a depiction of plume locations using a Lagranagian Particle Model coupled to the Regional Spectral Model. The RSM is run daily in a forecast mode at TVA Muscle Shoals, Alabama.
Plume based on 00z initial fields (mpg file optimized for QuickTime)
Plume based on 12z initial fields (mpg file optimized for QuickTime)
ARL Hysplit Trajectories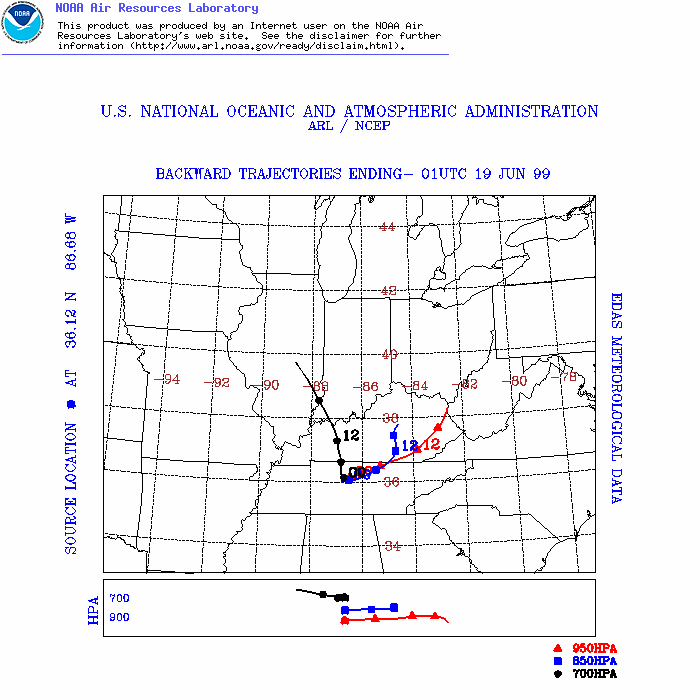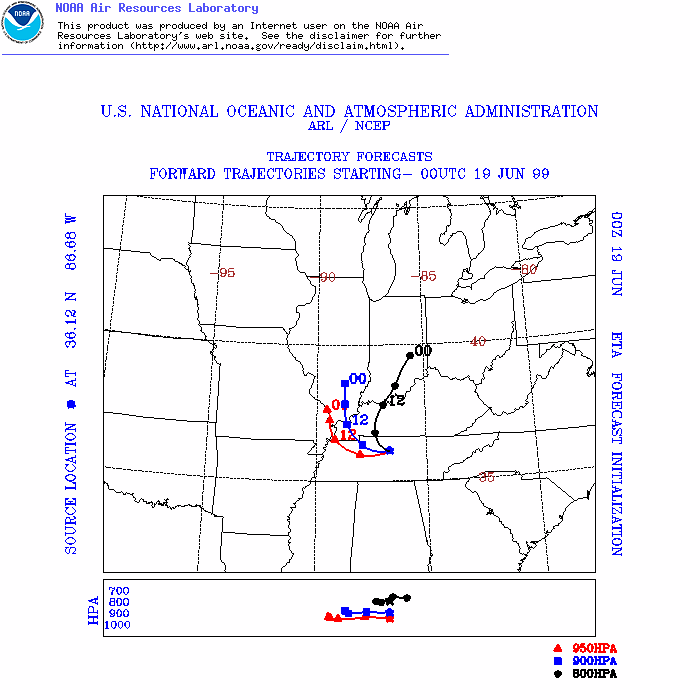 Nashville Soundings