Logistics
Local Nashville map including SOS 99 site locations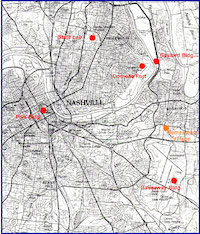 Nashville Region map including SOS 99 site locations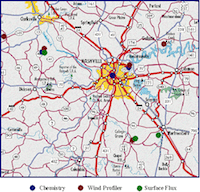 Lodging
SOS reserved a block of 50 rooms for our collective use during the 1999 Field Study at the:
Homestead Village
727 McGavock Pike
Nashville, TN 37214
(615) 316-9020
Depending on the length of stay, the room rates range from $35 to $45 per night. Federal Tax waivers are accepted and should be used. Each individual is responsible for securing their own room reservations. When making your reservation you should speak with Mindy Hobbs and preface your request with the fact that you are a member of the "SOS/TVA Field Study" and that you would like one of the 50 rooms reserved for that purpose. The rooms will be distributed on a first come basis so we urge each of you to make your reservations as soon as practical. Remember that Nashville Fan Fair 1999 overlaps with the timing of the study and rooms in Nashville will be at a premium.
There are other accommodations in the Nashville area participants may find more appealing. Be sure to ask for government rates and tax credits for stays over 30 days. Some Aeronomy Lab participants found a great hotel alternative on Music Row, the Spence Manor, for something out of the ordinary with true Nashville flavor!
Shipping
Particpants may use the following address for US Mail and deliveries to the project office:
Southern Oxidants Study
Harvey P. Gassaway Building (2nd Floor)
322 Knapp Boulevard
Nashville, TN 37217
and to the ground site:
Southern Oxidants Study
Cornelia Fort Airpark
2640 Airpark Road
Nashville, TN 37217
Office Space Network
The Gassaway building offices will have a 100MHz TCP/IP Ethernet network connected to the Internet through a dedicated T-1 (1.544 Mbps) contracted with MCI WorldCOM for the duration of the study. A TCP/IP tunnel to Boulder will be in place to enable the use of NOAA Aeronomy Lab resources, and control of IP numbers and the firewall (this firewall will not restrict participant work). For each network device identified, a twisted pair cable with a RJ-45 connector is supplied. Users must supply all other hardware required to connect and operate their network devices.
Contact Cathy Burgdorf with network related questions on site during the study.
Printers
There are 4 network printers (2 color and 2 B&W) in the Gassaway building. An HP LaserJet 4M+ and an Epson Color 900N are located in the center of the open area. An HP LaserJet 4000N and another Epson Color 900N are located in the office area. Extra paper and toner cartridges are in proximity.
Macintosh users: From the Chooser select the LaserWriter8 driver. Setup "1stFloor Lab 4M+" or "TropChem (Private)". If you find you are missing the correct printer description file, contact Cathy.
Windows 95/98 users: SOS is in the workgroup/domain "domain2". Enable WINS in the Network Control Panel and set 140.172.240.6 as primary. Obtain the SOS Microsoft Networking username and password from Cathy, and Restart.

From the Start menu, Find computer... Alntsrvr. Drag the "1-4MLab" or "tropchem" printer into your Printers folder.
OR, Double click Add Printer. Select a Network Printer and Browse the Alntsrvr for "1-4MLab" or "tropchem". If you cannot Browse the Alntsrvr, contact Cathy for hints.

Windows NT users: Add the Appletalk protocol from the Network control panel (if it's not already added). Double click Add Printer. Select My Computer and Add Port for an Appletalk printing device. Or use above method for Win95/98.