Weather Forecasts
Daily Weather Summary
June 22, 1999:
As persistent 850 mb high to our NE finally weakens its grip, 850 mb flow will become Srly this afternoon, at around 10 kts. Therefpre, dewpoints will rise well up into the 60s, and with the atmosphere more unstable, there will be scattered to numerous Cu clouds this afternoon, and maybe some widely scattered thunderstorms. However, most locations will not see any rain today. High: 90 Low: 68 Mixing hgt.: ~2200 m MSL.
Tomorrow's Forecast
June 23, 1999:
Active weather pattern begins to take shape. Strong 500 mb shortwave digs into MS River Valley, and in response, surface pressures fall over Southeastern US. 850 mb southerly flow increases to around 20 kts by Wednesday afternoon. Also, with moisture increasing and upward vertical motion, expect mostly cloudy skies by afternoon with scattered showers and thunderstorms moving in from the west, becoming more numerous during the late afternoon and overnight hours. High: 89 Low: 71.
Day after Tomorrow Forecast
June 23, 1999:
850 mb winds become SWly at 20-25 kts, as 500 mb shortwave slowly approaches from the west. Expect showers and thunderstorms on Thursday, with cloudy skies. High: 84. Low: 71.
Outlook
June 25 - 27, 1999:
Uncertainty still with the Friday through Sunday time-frame, as MRF model cuts off 500 mb low over the region, which would keep more clouds and good rain chances in the area for Friday and Saturday, before finally drying out Sunday. However, the MRF is probably a little slow in getting rid of this low, so we may dry out some on Saturday. Expect highs to stay in the 85 to 90 range, with lows in the lower 70s.
Profiler Plume Depiction
The following shows a depiction of plume locations as predicted by the profiler winds assimilated into a one-dimensional boundary layer model. The top image shows particle positions as of the previous evening. The lower image shows particle positions as of the following morning for particles released beginning the previous noon.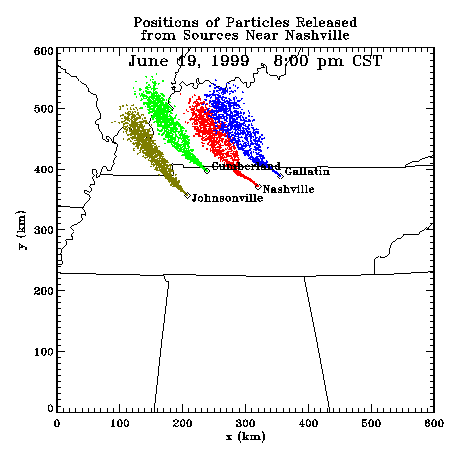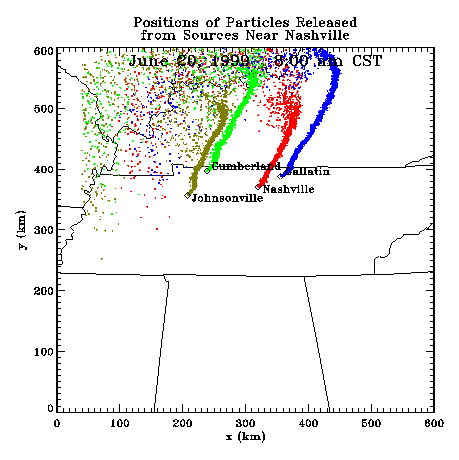 Forecast Plumes
The following gives a depiction of plume locations using a Lagranagian Particle Model coupled to the Regional Spectral Model. The RSM is run daily in a forecast mode at TVA Muscle Shoals, Alabama.
Plume based on 00z initial fields (mpg file optimized for QuickTime)
Plume based on 12z initial fields (mpg file optimized for QuickTime)
ARL Hysplit Trajectories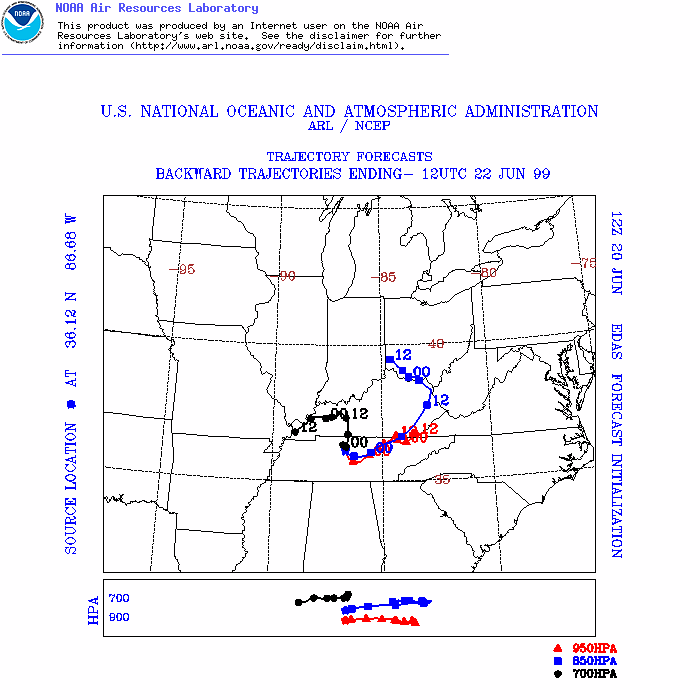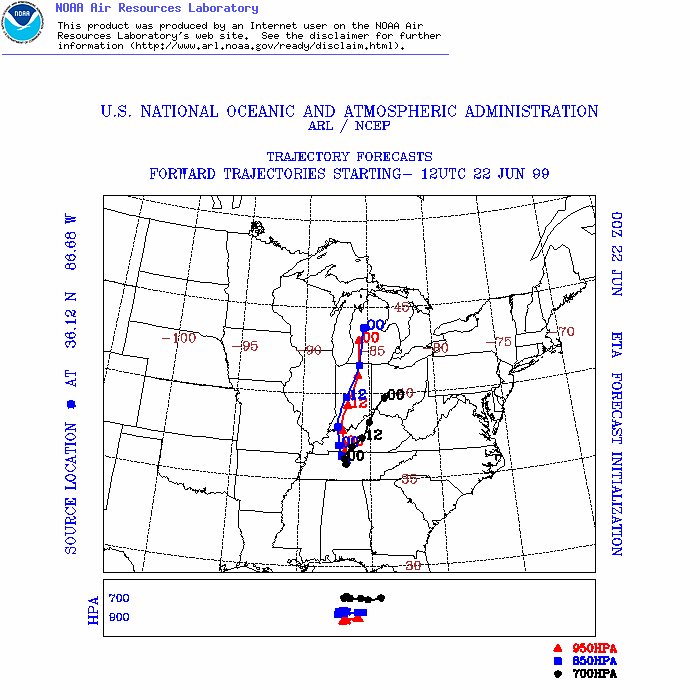 Nashville Soundings