Weather Forecasts
Daily Weather Summary
June 26, 1999:
The air mass over Tennessee remains extremely moist through a deep layer, and also moderately unstable. In addition, another 500 mb shortwave is approaching from the west. Therefore, expect showers and thunderstorms off and on all day today, and into tonight. With the high moisture up through 500 mb, heavy rainfall is possible. High: 82 Low: 72 850 mb winds will be SSW around 10 kts this afternoon, shifting around to WSW by Sunday morning, and increasing to 15 to 20 kts.
Tomorrow's Forecast
June 27, 1999:
500 mb trough will pass very slowly to our north during the day on Sunday, so expect still plenty of clouds, although the sun may appear occasionally as the air dries out a tad. There will still be scattered rain showers or thunderstorms on Sunday, but they should not be nearly as widespread as they are on Saturday. With associated 850 mb low to our north, winds at 850 mb will be WSWly, around 15 to 20 kts. High: 85 Low: 72
Day after Tomorrow Forecast
June 28, 1999:
Another 500 mb shortwave approaches. Nothing new here. Rain chances increase again on Monday, with plenty of clouds. 850 mb winds still quite strong, out of the west around 25 to 30 kts. High: 84 Low: 72
Outlook
MRF model tries to dry us out as we go into the middle of the week, but given the recent continuous parade of 500 mb troughs, not so sure of this. MRF does not seem to pick up the trough moving in on Monday which the ETA shows, so the MRF may be a little suspect. In any event, expect chances for mainly afternoon and evening thunderstorms into the middle of the week, but rain chances may drop off as we get past Monday. Highs: 85 to 90. Lows: 68 to 72.
Profiler Plume Depiction
The following shows a depiction of plume locations as predicted by the profiler winds assimilated into a one-dimensional boundary layer model. The top image shows particle positions as of the previous evening. The lower image shows particle positions as of the following morning for particles released beginning the previous noon.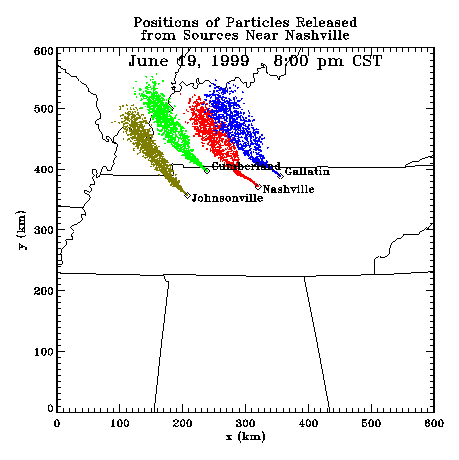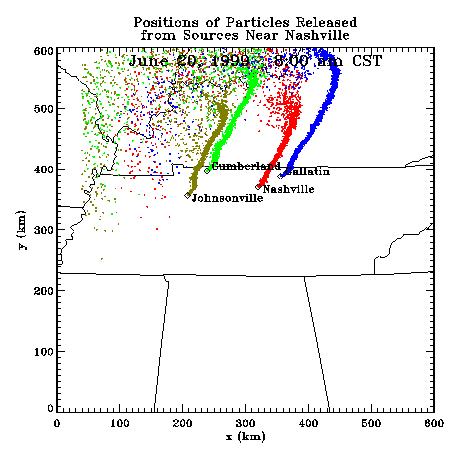 Forecast Plumes
The following gives a depiction of plume locations using a Lagranagian Particle Model coupled to the Regional Spectral Model. The RSM is run daily in a forecast mode at TVA Muscle Shoals, Alabama.
Plume based on 00z initial fields (mpg file optimized for QuickTime)
Plume based on 12z initial fields (mpg file optimized for QuickTime)
ARL Hysplit Trajectories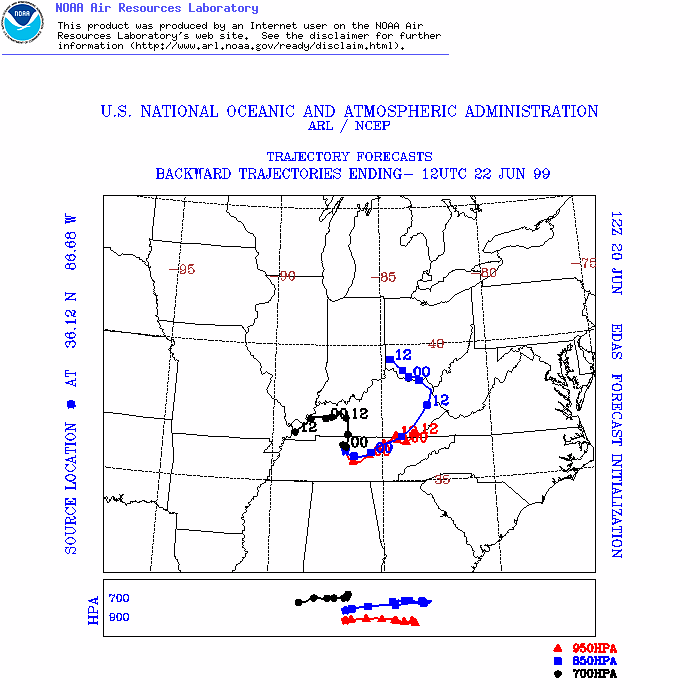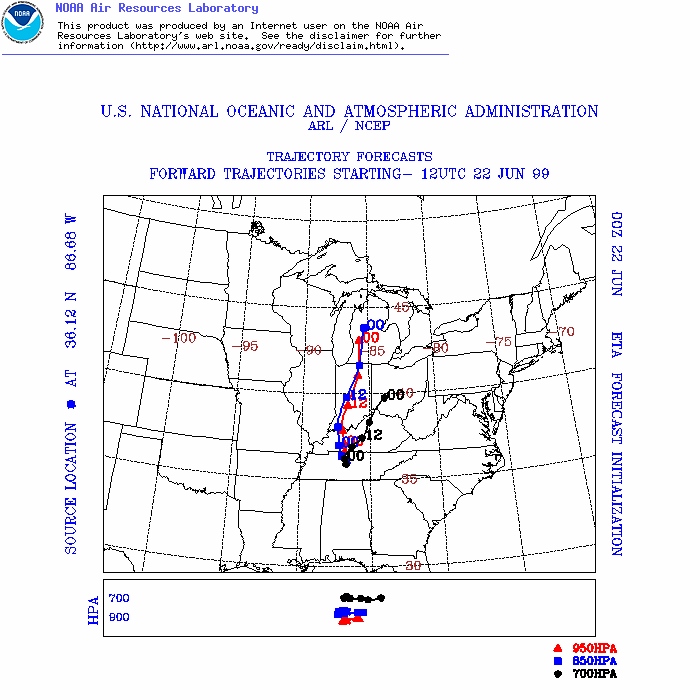 Nashville Soundings