Weather Forecasts
Daily Weather Summary
June 30, 1999:
Frontal boundary which passed us yesterday is now moving back northward through Tennessee. Therefore, we will get back into the moist and more unstable air this afternoon. Also, with some weak upper-level shortwaves moving through, and the front being close by, there is a chance for some showers/thunderstorms this afternoon and overnight, but expect less than 2 hours of rain in most locations. 850 mb winds will be WSWly at 10-15 kts by late afternoon. High: 87 Low: 71 Mixing Hgt.: ~ 1000 m MSL.
Tomorrow's Forecast
July 1, 1999:
What appears to be the last in the series of 500 mb shortwave troughs will swing through on Thursday, and with the moist and unstable air mass we will have in here tomorrow, there will once again probably be some scattered thundershowers, primarily in the afternoon and evening. 850 mb winds will be strong, out of the SW at 25-30 kts. High: 90 Low: 72
Day after Tomorrow Forecast
July 2, 1999:
Surface high pressure ridge starts to build into the area, bringing S or SWly flow. Any thunderstorm activity will be widely scattered during the afternoon/evening hours, and most spots will be dry on Friday. High: 92 Low: 72
Outlook
Surface ridge takes control Saturday through Monday, as 500 mb high builds over eastern US. Expect hot temperatures, with mostly sunny skies and only isolated afternoon thunderstorms each day, and mainly light southerly flow. Highs: 94-98 Lows: 71-77.
Profiler Plume Depiction
The following shows a depiction of plume locations as predicted by the profiler winds assimilated into a one-dimensional boundary layer model. The top image shows particle positions as of the previous evening. The lower image shows particle positions as of the following morning for particles released beginning the previous noon.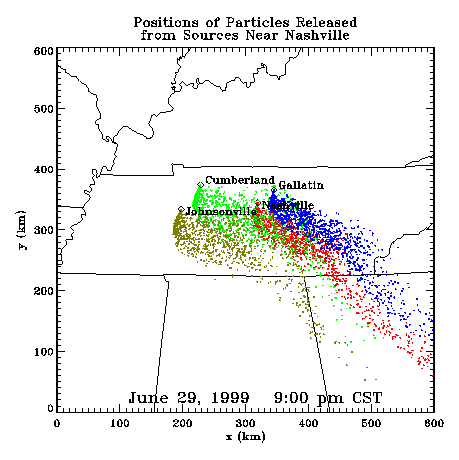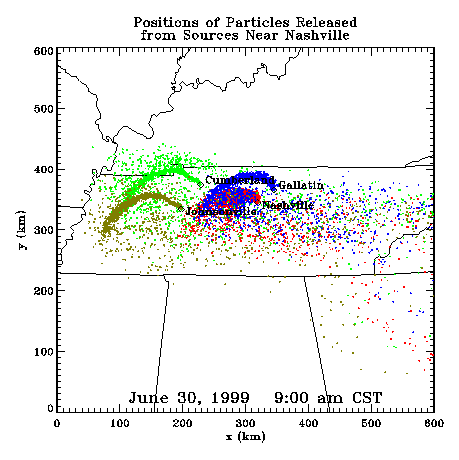 Forecast Plumes
The following gives a depiction of plume locations using a Lagranagian Particle Model coupled to the Regional Spectral Model. The RSM is run daily in a forecast mode at TVA Muscle Shoals, Alabama.
Plume based on 00z initial fields (mpg file optimized for QuickTime)
Plume based on 12z initial fields (mpg file optimized for QuickTime)
ARL Hysplit Trajectories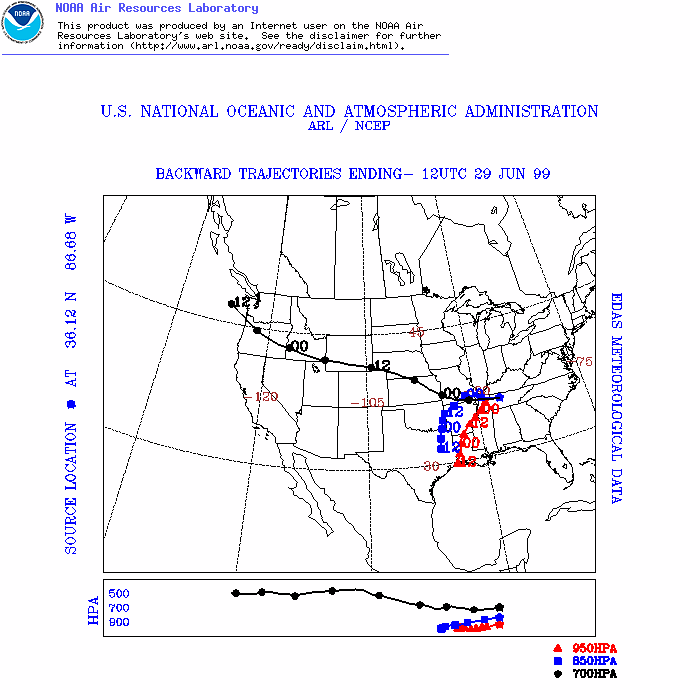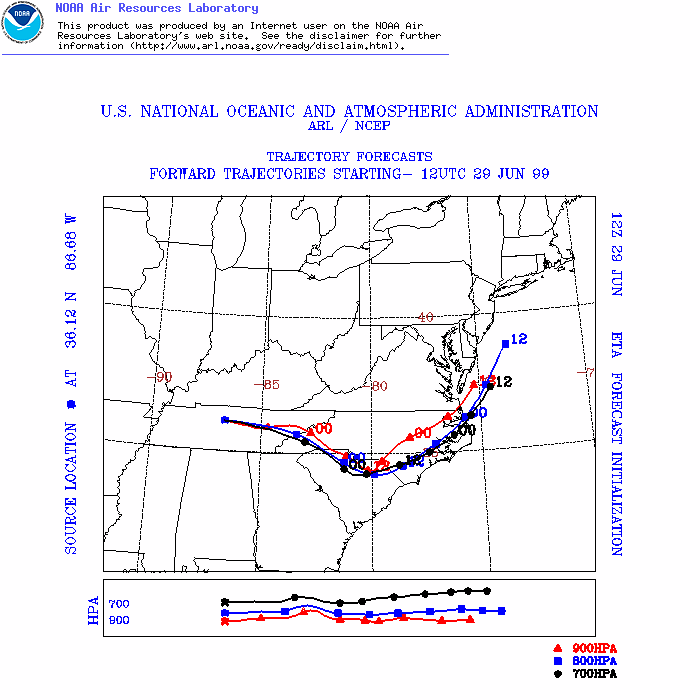 Nashville Soundings