Weather Forecasts
Daily Weather Summary
July 13, 1999:
An upper-level trough will move into Tennessee this afternoon. Out ahead of it, the clouds that have hung around this morning should give way to at least partial sunshine this afternoon. However, due to limited moisture, any chances for rain will be small. High: 85 Low: 65. Mixing Hgt.: 1600 m MSL. 850 mb winds are a tough call, but they should become SEly during the day, at speeds < 7 knots.
Tomorrow's Forecast
July 14, 1999:
850 mb winds become SSWly, but still < 10 kts on Wednesday, as another 500 mb trough swings across Tennessee. This trough may bring some scattered cloud cover, but it will stay dry, so any rain chances are extremely small. High: 87 Low: 67
Day after Tomorrow Forecast
July 15, 1999:
Expect some cloud cover, but some sunshine as well. High: 87 Low: 68
Outlook
For Friday through Sunday, a surface high pressure ridge builds in from the east, bringing southerly flow, warmer, more moist Gulf air, and the typical partly cloudy skies with isolated afternoon thunderstorms. Highs: 89-93. Lows: 69-73.
Profiler Plume Depiction
The following shows a depiction of plume locations as predicted by the profiler winds assimilated into a one-dimensional boundary layer model. The top image shows particle positions as of the previous evening. The lower image shows particle positions as of the following morning for particles released beginning the previous noon.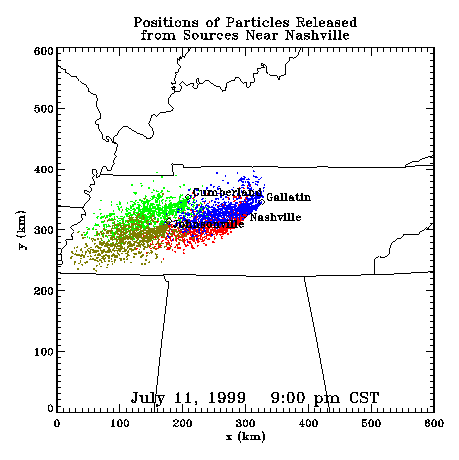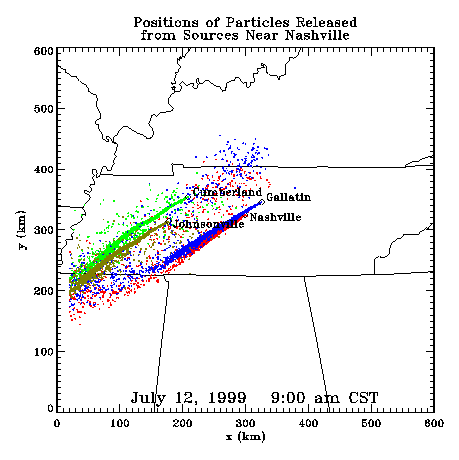 Forecast Plumes
The following gives a depiction of plume locations using a Lagranagian Particle Model coupled to the Regional Spectral Model. The RSM is run daily in a forecast mode at TVA Muscle Shoals, Alabama.
Plume based on 00z initial fields (mpg file optimized for QuickTime)
Plume based on 12z initial fields (mpg file optimized for QuickTime)
ARL Hysplit Trajectories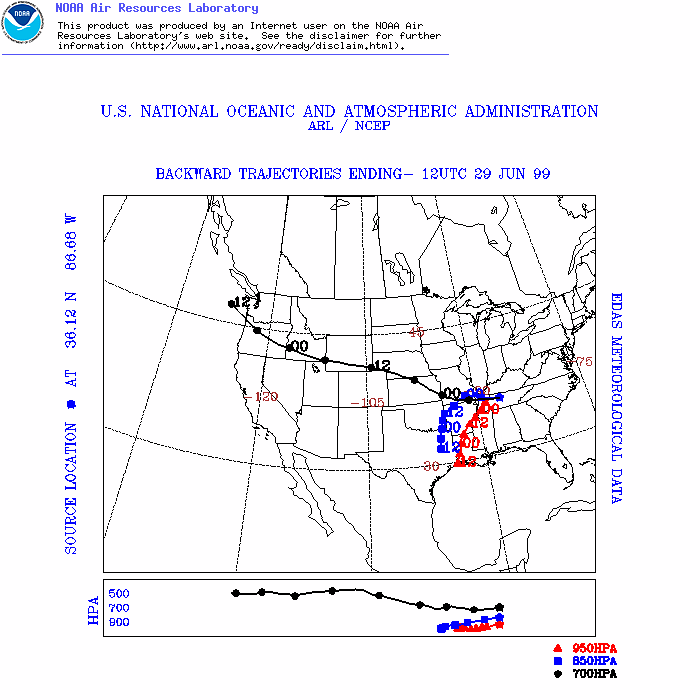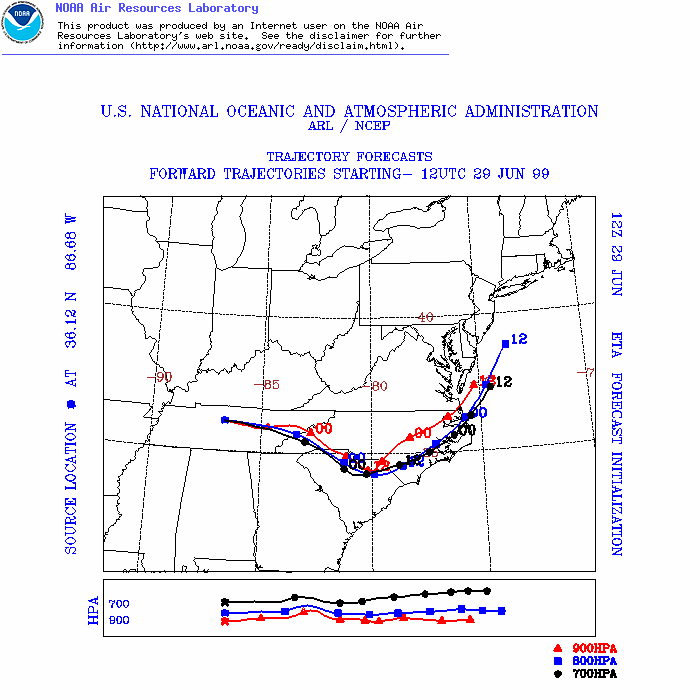 Nashville Soundings