Newsroom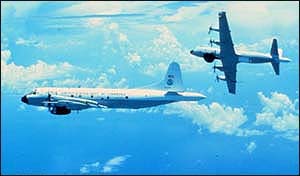 Photo: NOAA AOC
Friday, 25 June 1999
Scientists are trying to develop tools to fight air pollution by studying hot and humid southern cities such as Atlanta, GA, and Nashville, TN.
In the late 1980s, scientists realized that the South had unique air quality management problems caused by warm temperatures, high humidity, stagnant air and natural emissions of hydrocarbons from the region's large rural and urban forests.
"Large urban heat islands, such as Nashville or Atlanta, surrounded by lush vegetation and forests, cause a unique air pollution mix of human-caused and natural emissions," said James Meagher of the National Oceanic and Atmospheric Administration's Aeronomy Laboratory in Boulder, CO.
Under the Southern Oxidants Study, government and university researchers will investigate the processes responsible for the formation of ozone pollution and fine particulate matter that is believed to damage crops and forests and affect human health and scenic visibility.
Using planes, helicopters and air monitoring stations located throughout the South, scientists will collect air samples to assess the physical and chemical characteristics of fine particulate matter and ozone.
"The combined activities of this study provide an unparalleled opportunity to describe the production and distribution of ozone and PM throughout the southeast with a level of detail that has hitherto not been possible," said Meagher.
In one such experiment, a P-3 aircraft will gather data during low-altitude flights over the major population and air traffic centers of Atlanta and Nashville. This will give scientists a way to assess the similarities and differences in the air quality of the two cities and allow policy makers to determine the appropriate response to air quality management.
"We're expecting to develop a really good database from these experiments that will provide the sound science needed to find solutions to the special air pollution problems facing this region," said Meagher.