Trinidad Head Ground Site Map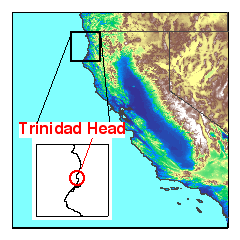 The map shows the general location of the Trinidad Head ground sampling site during the 2002 ITCT project. The small inset shows the Northern California coast line. The station is located at 41.054N, 124.15W. The ESRL Global Monitoring Division uses Trinidad Head as one of its baseline observatories.
Portable trailers which housed the instruments and sampling towers were set up at Trinidad Head. Measurements were made from April 15 to May 26, 2002.