WP-3D Hangar Space & Internet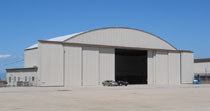 Space Layout
The ITCT 2k2 hangar facility is located off Airport Road in Monterey, CA, at 510 Airport Way, across the runway from the aircraft FBO Million Air (reference the maps of Monterey Airport and Vicinty).
Participant lab and office space assignments are complete, including internet connection count based upon your response. Lab space for instruments not requiring internet access will be accommodated in Suites G and F and the first floor of the hangar.
During the study, participants may drive through Gate V20, located on Airport Road east of the Monterey Airplane Company (reference the map of the Monterey Airport) and park on the south side hangar ramp. Federal regulation requires us to wait for the gate to close before driving away. Proceed with caution! Refer to the on site bulletin boards for the Gate V20 access code.
Computer Network
The ITCT 2k2 hangar will have a DHCP Ethernet network connected to the Internet through Million Air's dedicated T-1 (1.544 Mbps via an 11 Mbps DSL wireless link to the hangar) for the duration of the project. IP addresses will be assigned to hosts dynamically. Configure DNS for mbay.net (206.55.237.4 and 206.55.237.3). Set the router gateway to 192.168.16.253 if required. Your organization's firewalls will need to allow traffic for our local Monterey connection (206.55.246.2) and shouldn't require static IP assignment. The local network and it's resources will terminate on the transit day, immediately following takeoff.
For each network device you identified, a twisted pair cable with a RJ-45 connector will be supplied. You must supply all other hardware required to connect and operate your network device. NOTE to DSRC users: PLEASE DO NOT remove any cable or hubs from your office or lab.
Contact Cathy Burgdorf with computing and networking resources related questions.
Printers
One networked B&W laser printer and both of AL's TropChem group B&W laser and Tektronix Phaser color printers are located on site during the deployment for general use:
"Field B&W" and "TropChem Color" on the second floor of the hangar in Suite O.
"TropChem B&W" on the first floor of the hangar in Suite F.
Relevant supplies including paper and transparencies are provided. Connect to these printers on site via the NT print server or AppleTalk. Printer service will terminate on the transit day, immediately following takeoff.