Raul J. Alvarez II of CSD's Atmospheric Remote Sensing (ARS) research group receives a NOAA Silver Sherman Award. This award was initiated by our outgoing NOAA Administrator Dr. Kathy Sullivan, to recognize individuals who excel in their work, achieve a milestone that contributes significantly or critically towards a particular program's goal, or demonstrate leadership toward process improvement of a significant magnitude. This is CSD's first Silver Sherman.
Raul is recognized for his outstanding efforts to support laboratory and mobile lidar systems in the ESRL Chemical Sciences Division. As he demonstrated in a recent field mission to study high surface ozone values in central California, he is an expert in keeping state-of-the-art laser systems running continuously under challenging field conditions and coordinating multiple laser systems and investigators.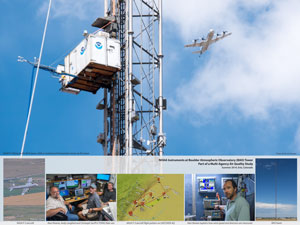 Raul received a PhD in physics at CSU in the early 1990s for measurements of tropospheric temperature and aerosol extinction using a high-spectral resolution lidar and joined NOAA's Environmental Technology Laboratory in Boulder. He joined CSD with Mike Hardesty and colleagues of the Environmental Technology Lab (ETL) when CSD and ESRL were formed a decade ago. Raul is a laser expert with extensive experience in the design and construction of many types of lidar systems for ground-based and airborne deployments. Applications included detection of ozone with ultraviolet differential absorption lidar, tropospheric aerosol with laser backscatter measurements, cloud/aerosol scattering and depolarization with unattended systems, and atmospheric winds using Doppler lidar systems. He is considered the 'master' when it comes to tweaking certain temperamental lidar systems to keep them operating in harsh and unforgiving field conditions. Raul's mastery of the diverse ARS portfolio of lidar systems and their applications has led to many important scientific results in numerous CSD field campaigns. He has previously been awarded a U.S. Department of Commerce Silver Medal and U.S. Environmental Protection Agency Bronze Medal. Raul is also active in outreach activities involving students in ARS, grade-school Science Days, Denver Public Schools Career Fair, and Earth Explorers.
Raul receives a Silver Sherman pin and certificate at a CSD lab gathering on 14 February 2017. The pin that accompanies this award "... is dubbed the 'Silver Sherman' because it features Sherman the Shark from Jim Toomey's popular daily comic Sherman's Lagoon. Mr. Toomey has long been a friend of NOAA. Besides sharing the exploits of the comic strip's namesake shark and his underwater friends, Mr. Toomey uses the cartoon to educate his readers about the environment."