More Information
If you have any questions about our seminar series, or are interested in presenting a seminar, please contact the CSL Seminar Series Coordinators: Gregg Schill or Audrey Gaudel.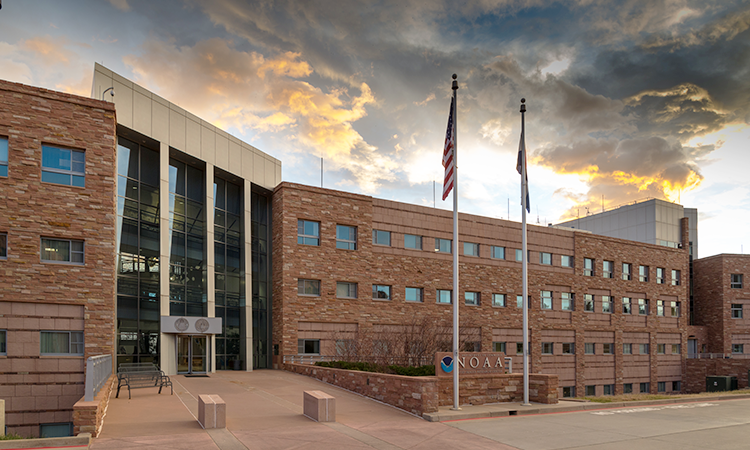 Location, Location: Refer to the building map. The CSL seminar room (2A305) is located on the second floor of the northernmost block (A) of the David Skaggs Research Center (DSRC), 325 Broadway, Boulder, CO. Enter the DSRC through the main building entrance, located in the central west side near the flagpoles. From the DSRC lobby, proceed up the stairs one level, turn left (north) and follow the long hallway. At the next major intersection (featuring windows and a freight elevator) turn right (east), then left again. The seminar room is through the double doors on your left.
Visitor Information: The Visitors Center and entrance to the Boulder Department of Commerce site are located on Broadway at Rayleigh Road. Seminar attendees must provide a valid photo ID at the Visitors Center to obtain a visitor badge. Forms of identification acceptable for entry to NOAA facilities are based on citizenship. Foreign Nationals without a valid passport or a permanent resident ID ("green card") must provide additional information required for security purposes at least 48 hours in advance of arrival. Security personnel also inspect vehicles prior to entrance of the site. Please allow extra time for these procedures. After receiving a badge, you must arrive in the DSRC Lobby no later than 5 minutes before the seminar starts to meet your security escort. If you arrive after this time, you will not be allowed entry.
Subscribe to a Seminar Mailing List: Register for our email service. Use this same service to Unsubscribe (use the link at the bottom of every email).
Subscribe to an Events calendar: The ESRL Calendar includes the seminars, meetings, and events for the Earth System Research Laboratories (CSL, GML, GSL, PSL). The CSL Calendar (Intranet access required) includes our seminars, meetings, and events.
More Seminars