Jim Roberts, an atmospheric research chemist at NOAA ESRL CSD and Fire Influence on Regional and Global Environments Experiment (FIREX) researcher, discusses "How to Make Friends & Influence Wildfires" for Science on Tap on Tuesday, February 6, 6:30pm - 8:00pm at the Gunbarrel Brewing Company.
Why are wildfires becoming more common and more intense in the West? It's partly because of a warmer and drier climate and partly because our historic fire-fighting strategies have allowed fuels to build up in forest ecosystems. These fires put people and property at risk, a problem that is increasing since we are building more structures in the Wildland Urban Interface (WUI - pronounced woo-wee as in "woo-wee that was a bad fire"). The risks include the effects of smoke on air quality (human health and visibility), and the long-range effects of smoke particles on climate. Our challenge is to live in this new regime, where wildfire happens year-round and we will need to let some fires burn, in ways that minimize unwanted impacts. Enjoy a beer as we talk about the science behind how we can reduce those adverse impacts.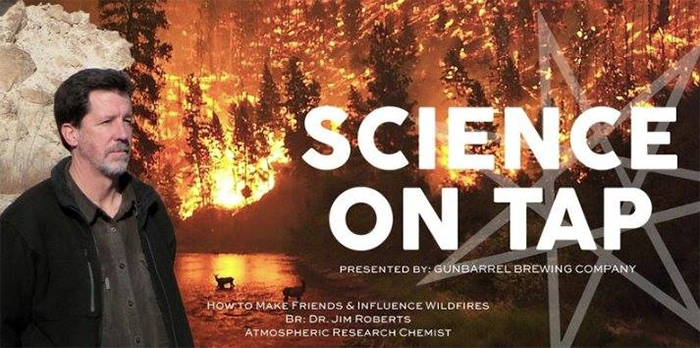 Science on Tap is an outreach activity organized by Chelsea Thompson, Patrick Veres, and Matt Coggon, CIRES atmospheric research chemists at CSD in Boulder, in cooperation with Gunbarrel Brewing Company (GBC). The monthly program is an opportunity for science enthusiasts and beer lovers to gather and discover recent research in science and technology. Local scientists across a variety of disciplines present their work in a fun, informal, and interactive setting while enjoying some of Boulder's finest craft beers. If you go, expect the brewery's usual beverage options and food trucks, with a 30-40 minute presentation followed by discussion and Q&A.