The CIRES Outstanding Performance award recognizes Cooperative Institute for Research in Environmental Sciences (CIRES) employees who have uncommon initiative, resourcefulness, and/or scientific creativity conducting research with potential to expand or change the direction of a particular field or discipline. It also recognizes participation in collaborative and/or multidisciplinary research that engages a broader cross-section than the researcher's typical scientific or engineering community.
---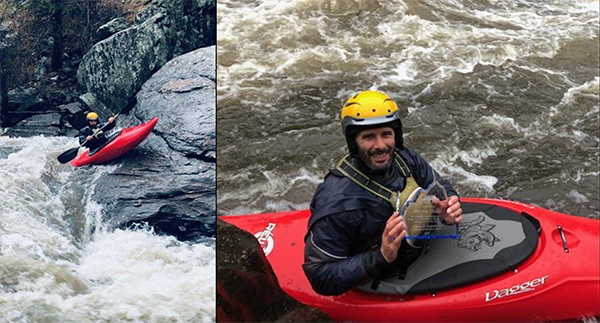 Chemical Sciences Laboratory scientist Dr. Matthew Coggon receives a CIRES Outstanding Performance Award in the Science and Engineering category for changing our understanding of urban and wildfire ozone formation and resulting in air quality impacts by pioneering experimental and numerical chemical modeling work on biomass burning and volatile chemical product emissions.
Dr. Coggon deserves this award for building novel scientific tools by combining state-of-the-art measurements with novel chemical mechanism development and creative box model analysis and thereby carrying out creative analyses of CIRES and NOAA data, and for interacting with his colleagues to develop unexpected perspectives that are changing how scientists, regulators, and the public think about urban air quality and biomass burning air quality and climate impacts.
Dr. Coggon's research has involved understanding the emissions and chemical processing of volatile organic compounds in wildfires and volatile chemical products (VCPs), both classes of compounds expected to grow in magnitude and importance in the coming decades. Matt has led (1) the experimental measurements of sources and atmospheric concentrations, (2) the formulation and implementation of chemical mechanisms for numerical modeling of these atmospheric compounds, and (3) the development of numerical box models for urban chemistry and wildfire plumes. There are only very few researchers in atmospheric sciences with the rare talent to be both a highly skilled experimentalist and a highly proficient atmospheric modeler. He has used this unique combination of tools to completely overhaul our previous understanding of the production of the criteria pollutant ozone in urban areas and biomass burning plumes.
---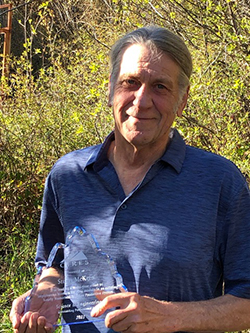 Dr. Stuart McKeen, a researcher in CSL's Regional Chemical Modeling program, with colleagues Dr. Ravan Ahmadov and Dr. Eric James at the NOAA Global Systems Laboratory (GSL), receive CIRES Outstanding Performance Awards in the Science and Engineering category for leading a multi-year effort to implement a biomass burning module in an existing hourly Numerical Weather Prediction system to predict smoke movement.
A model that predicts the spread of wildfire smoke became operational in January 2021. HRRR-Smoke is the first weather forecast model in the U.S. to include smoke's impact on weather. The development is timely with the recent increase of western U.S. wildfires. Over the last several years HRRR-Smoke forecasts have been widely used: First responders and air traffic controllers rely on HRRR-Smoke for visibility. Fire crews, EPA clean up crews, and the general public have relied on the HRRR-smoke forecasts in planning their activities.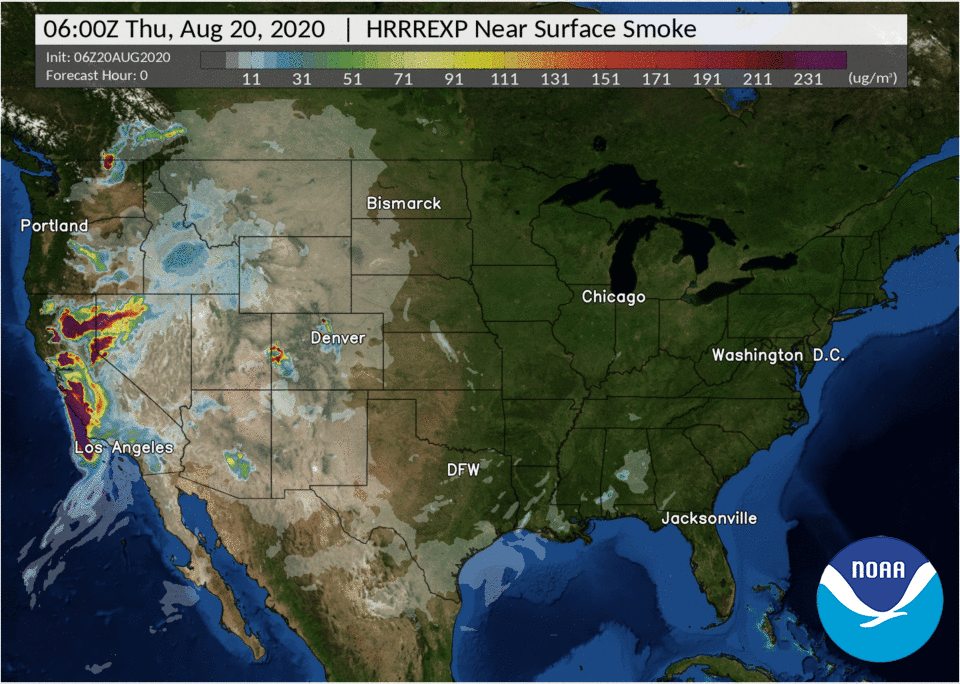 Developed under lead researcher Dr. Ahmadov, the team has been operating HRRR-Smoke experimentally at NOAA Global Systems Laboratory since 2016. HRRR-Smoke ingests real-time data from NOAA-20 and Suomi-NPP satellites, as well as NASA's Terra and Aqua satellites. It relies on fire radiative power, which measures the amount of heat released by a fire in megawatts. The model also uses observation of wind speed, rain and atmospheric temperatures, and combines that with vegetation maps to incorporate what's burning.
The air quality modeling team leader for the National Weather Service said that when HRRR-Smoke first emerged, it surprised forecasters with its ability to provide local information on wildfire smoke at a resolution four times greater than what they were accustomed to with other weather models. HRRR-Smoke sees smoke at a spatial resolution of nearly 2 miles by 2 miles per pixel. It was a revolutionary achievement to produce smoke forecasts at that resolution. Further, they were seeing how smoke interacted with sea breezes or with air flows east of the Rocky Mountains. Before this product, smoke would get trapped against the mountains, and they would miss the true impact of smoke stuck in the valleys. The biomass burning module is a valuable asset to weather forecasting.
---

Catherine Rasco, Dr. Megan Melamed, and Dr. Chelsea Thompson receive CIRES Outstanding Performance Awards in the Service category for redesigning the Chemical Sciences Laboratory website and orchestrating excellent use of ESRI StoryMaps in support of the 5-year laboratory review.
This team deserves this award for their creative and effective approach to showcase the research performed by CIRES and NOAA employees at the Chemical Sciences Laboratory (CSL). In a period of only a few months, the team pitched an idea of using ESRL StoryMaps to an initially hesitant CSL management team, convinced management to give them approval to proceed with this approach, and fully implemented it for our key research topics performed at CSL. This included training the workforce in the use of the StoryMap interface, providing guidance and feedback during the development process, as well as organizing graphics, audio and video into the StoryMaps.
In close coordination with Chelsea and Megan, Cathy provided the internal web development for the CSL Science Review, including maintaining and updating CSL website resources for the international Reviewers and background support for the ESRI StoryMaps. In advance of the CSL Science Review, the team also worked to complete a website content overhaul to lay out a deeper, more flexible web presence that would more fully represent the research over the past five years.
This was all accomplished while 90% of the CSL workforce was working remotely and when communicating our science with each other and the external community has only increased in importance. The complete collection of StoryMaps may be found with the 2021 CSL Science Review under the "StoryMap Presentations" tab; firsthand viewing of them proves more convincing of their value than mere words written about them. It does not take long to recognize that the combination of text, figures, and videos, as well as the intuitive webpage navigation, has packaged a description of what we do and why and how we do it that is both captivating and exciting for the reader. It is unequivocally true that these StoryMaps would exist without the creativity, drive, foresight, and hard work put in over long hours of this team.
---
These well-deserved awards are presented at the CIRES Rendezvous scheduled virtually for 21 May 2020 at the University of Colorado Boulder.