Timberline Fire Protection District (TFPD) has taken ownership of the NOAA Aeronomy Laboratory (now NOAA CSL) Fritz Peak Observatory (FPO), located at 19126 Highway 119, Black Hawk, CO. The 5.8 acre site includes the three-story main building, the two-bedroom cottage that sits behind the main building, and the observation platform on Dutch Peak that you can see from most of the Rollinsville valley.
Their journey started in 2017, when TFPD was looking for a permanent home near Rollinsville. They learned that this federal facility would be available in the coming years, and contacted the NOAA CSL Director in a letter expressing interest in acquisition of the property . The possibility of acquiring the FPO seemed too good to be true for TFPD, the community, and emergency response to the north end of Gilpin County. While FPO has not been designated a historic building, they are honored and excited to preserve the landmark facility's unique history and give it a third life.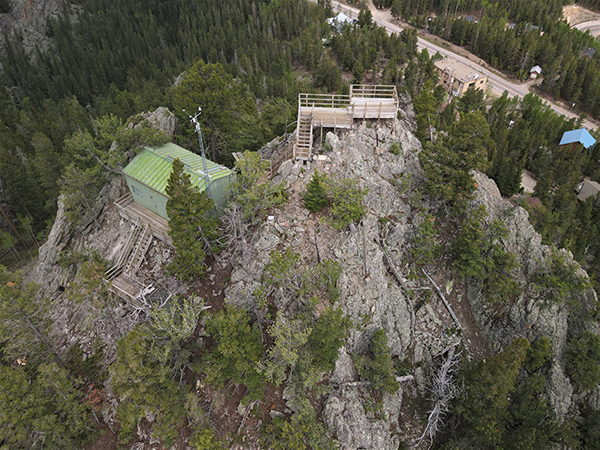 This building was first built as the Severance Lodge in 1946 by Horace "Skip" Severance and his wife Dorothy. In the late 1950's scientists began using the facility to study ionospheric airglow, when Franklin Roach started measurements during the International Geophysical Year (IGY). The National Bureau of Standards purchased the building in 1965, enabling scientists to conduct full-time atmospheric research and lodge overnight. Learn more about the history of the FPO from articles in the Weekly Register-Call: Iconic Fritz Peak Observatory research lab Part 1 and Part 2 published July 2021.
Many people in the area have driven past the Observatory for years and wondered what it looks like inside. Today it is empty as the observation equipment has been removed, but it is still interesting to see! Timberline would like to invite the public to an Open House on May 9, 2022 from 5 - 7pm, followed by their monthly Board of Directors meeting at 7pm.