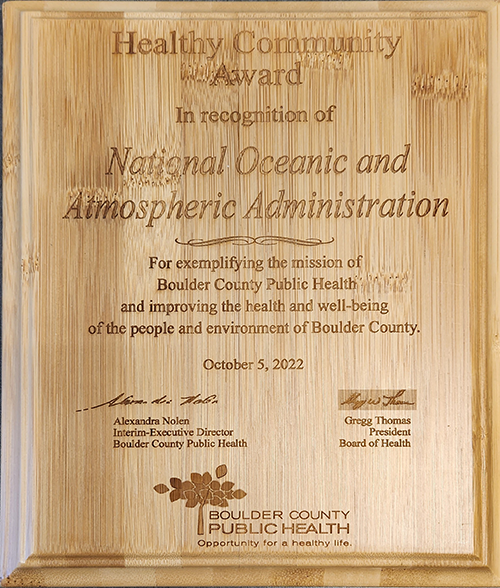 Since 2006, Boulder County Public Health has recognized individuals, groups, agencies, and organizations that have worked to address public health needs and issues in Boulder County. Recipients of the Healthy Community Award demonstrate strategies that improve the health and well-being of the people and environment.
NOAA is recognized for their work in supporting our communities impacted by the Marshall Fire. The work of NOAA in providing outdoor air monitoring immediately after the fire throughout the burn area to measure gaseous air pollutants caused by the fire was essential in ensuring residents in and around the burn area were safe. Their findings provided much needed answers to outdoor air quality health concerns of the community and is to be commended.
CSL scientists Carsten Warneke, Jessica Gilman, Matt Coggon, Jeff Peischl, Chelsea Stockwell, and Steve Brown responded in January 2022 with the CSL Mobile Laboratory. At the request from Boulder County Public Health and Colorado Department of Public Health and Environment, investigators drove through neighborhoods to understand the lingering effects of smoke in outdoor air quality immediately following the Marshall Fire.
Carsten Warneke accepted the award on behalf of NOAA CSL and CIRES researchers on 5 October 2022 at the 17th Annual Healthy Community Awards event held in Boulder, Colorado.