The highest honor award granted by the Under Secretary of Commerce for Oceans and Atmosphere, the Department of Commerce Bronze Medal, recognizes federal employees for superior performance and is awarded to individuals, groups (or teams), and organizations.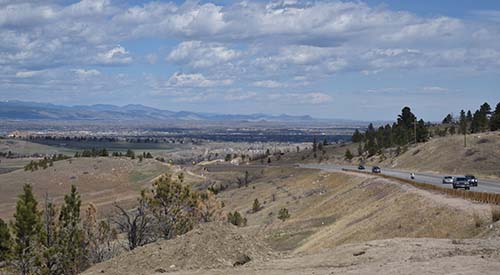 Jessica Gilman receives a NOAA Bronze Medal for scientific achievement "for synthesis, critical evaluation, and communication to scientists and the public of the global air quality impacts of COVID-19 pandemic lockdowns." She is recognized with Cooperative Institute for Research in Environmental Sciences (CIRES) affiliates at CSL: Christoph Senff, Sunil Baidar, Brandi McCarty, Ken Aikin, Jeff Peischl, Chelsea Stockwell, Michael Robinson, Georgios Gkatzelis, Aaron Lamplugh, Matt Coggon, and Carsten Warneke.
Dr. Gilman is honored for timely and exemplary work to synthesize and critically evaluate the large body of scientific literature describing the global air quality impacts of lockdowns implemented to mitigate the spread of COVID-19. The first seven months following the declaration of the pandemic witnessed the publication of several hundred scientific papers on this subject. Dr. Gilman collaborated with an international team of scientists to digitize these data, evaluate their reliability, reach initial scientific conclusions and create a new, public database for these and future analyses.
Global atmospheric composition has undergone sudden and unanticipated changes since early 2020 due to the anthropogenic (human-caused) emissions reductions from lockdowns to mitigate the spread of COVID-19. These changes provided an unprecedented opportunity to assess emissions inventories and the response of secondary pollutants to emission changes.
Working with international collaborators, Dr. Gilman personally digitized the quantitative results of over 200 scientific papers reporting changes in primary and secondary pollutants worldwide during COVID-19. She critically assessed the content and quality of the papers and chose those with suitable combined meteorological and air quality data.
The selected datasets, divided into 10 global regions, show systematic decreases in major pollutants, except for a 6% increase in ozone. Results were published in a peer-reviewed paper: Gkatzelis, G.I., J.B. Gilman, S.S. Brown, H. Eskes, A.R. Gomes, A.C. Lange, B. McDonald, J. Peischl, A. Petzold, C. Thompson, and A. Kiendler-Scharr, The global impacts of COVID-19 lockdowns on urban air pollution: A review, Elementa: Science of the Anthropocene, doi:10.1525/elementa.2021.00176, 2021. Data are permanently archived in an open database:
COVID-19 Air Quality Data Collection. Researchers already use emissions changes recorded in this compilation for comparison with inventories and secondary pollutant formation calculations. These results enable improved predictive capability of air quality models, elucidate impacts of future global emissions changes to mitigate climate change, and were incorporated into the 2021 IPCC report.