Logistics
SE Houston area map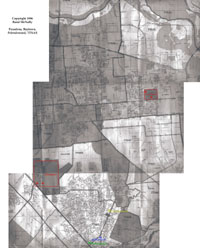 Houston area map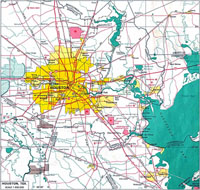 Lodging
The following are only suggestions. There are other accommodations in the SE Houston area participants may find more appealing. Be sure to ask for government rates and tax credits for stays over 30 days.
Office Space
Layouts for Ellington Field Site at 12000 Aerospace Avenue and Hangar 594
Layout for LaPorte Ground Site at LaPorte Municipal Airport Site B
Particpants may use the following address for US Mail and deliveries to the project office:
Texas Air Quality Study
12000 Aerospace Avenue, Suite #354
Houston, TX 77034
(281) 929-1104 voice
(281) 929-1132 fax
Networks
The Ellington Field Site and LaPorte Ground Site offices will have a TCP/IP Ethernet network connected to the Internet through a dedicated T-1 (1.544 Mbps) for the duration of the study. For each network device identified, a twisted pair cable with a RJ-45 connector is supplied. Users must supply all other hardware required to connect and operate their network devices.