Tropospheric Chemistry: Instruments
ARNOLD (Atmospheric Ring-down Nitrogen Oxide Laser Detector)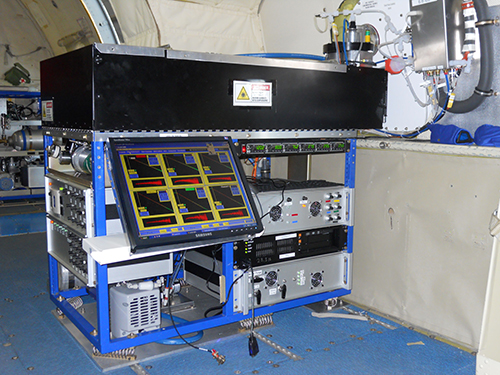 Principle of the Measurement
Diode laser cavity ring down spectroscopy
Species Measured
NO3, NO5, NO2, NO, O3 (NOy under development)
Time Response / Detection Limit
1 second / 0.5 pptv NO3, 1 pptv N2O5, 50 pptv NO2
Field Projects
NEAQS-ITCT 2004
Mesa 2005
TexAQS 2006
NO3/N2O5 Comp Julich 2007
Erie 2007
ICEALOT 2008
ACCRONIM 2009
CalNex 2010
NACHTT 2011
UBWOS 2012, 2013, 2014
SENEX 2013
Hong Kong 2013
FRAPPE 2014
WINTER 2015
Contacts
Key Publications
Wagner, N. L., W. P. Dubé, R. A. Washenfelder, C. J. Young, I. B. Pollack, T. B. Ryerson, and S. S. Brown, Diode laser-based cavity ring-down instrument for NO3, N2O5, NO, NO2 and O3 from aircraft, Atmos. Meas. Tech., doi:10.5194/amt-4-1227-2011, 2011.
Fuchs, H., W. P. Dubé, S. J. Ciciora, and S. S. Brown, Determination of Inlet Transmission and Conversion Efficiencies for in Situ Measurements of the Nocturnal Nitrogen Oxides, NO3, N2O5 and NO2, via Pulsed Cavity Ring-Down Spectroscopy, Anal. Chem., doi:10.1021/ac8007253, 2008.
Dubé, W. P., S. S. Brown, H. D. Osthoff, M. R. Nunley, S. J. Ciciora, M. W. Paris, R. J. McLaughlin, and A. R. Ravishankara, Aircraft instrument for simultaneous, in-situ measurements of NO3 and N2O5 via cavity ring-down spectroscopy, Rev. Sci. Instr., doi:10.1063/1061.2176058, 2006.