Tropospheric Chemistry: Instruments
PAN CIMS (Chemical Ionization Mass Spectrometer)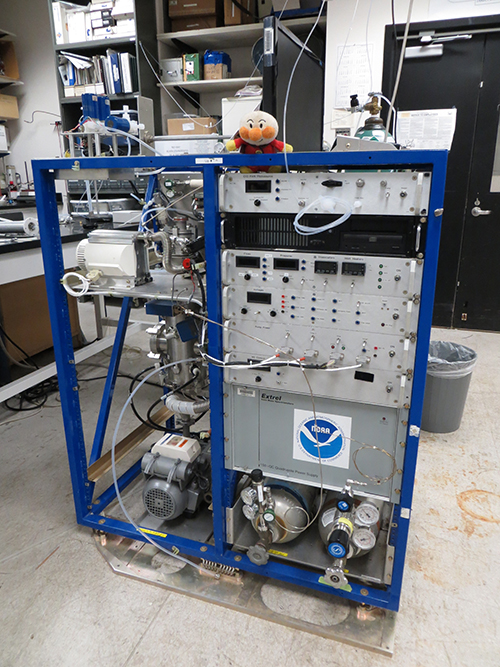 Principle of the Measurement
Chemical ionization mass spectrometric detection of carboxylate ions produced via reaction of thermally produced acylperoxy radicals with I-
Species Measured
Acyl peroxynitrate species, e.g. acetyl peroxynitrate (PAN), propionyl peroxynitrate (PPN), acryloyl peroxynitrate (APAN), methacryloyl peroxynitrate (MPAN) and crotonyl peroxynitrate (CPAN)
Nitryl Chloride (ClNO2)
Time Response
1 second
Detection Limit
Precision on 1s data 20 pptv
Accuracy
± (20% + 40 pptv) for PAN
± (20% + 40 pptv) for CINO2
Field Projects / Platforms
TexAQS/GoMACCS 2006 (NOAA R/V Ronald H. Brown)
ARCPAC 2008 (NOAA WP-3D)
CalNEX 2010 (NOAA WP-3D)
Gulf 2010 (NOAA WP-3D)
NACHTT 2011 (NOAA Boulder Atmospheric Observatory tower)
UBWOS 2012, 2013, 2014 (ground site)
SENEX 2013 (NOAA WP-3D)
SONGNEX 2015 (NOAA WP-3D)
Key Publications
Veres, P.R., and J.M. Roberts, Development of a photochemical source for the production and calibration of acyl peroxynitrate compounds, Atmospheric Measurement Techniques, doi:10.5194/amt-8-2225-2015, 2015.
Zheng, W., F.M. Flocke, G.S. Tyndall, A. Swanson, J.J. Orlando, J.M. Roberts, L.G. Huey, and D.J. Tanner, Characterization of a thermal decomposition chemical ionization mass spectrometer for the measurement of Peroxy Acyl Nitrates (PANs) in the atmosphere, Atmospheric Chemistry and Physics, doi:10.5194/acp-11-6529-2011, 2011.
Osthoff, H.D., J.M. Roberts, A.R. Ravishankara, E.J. Williams, B.M. Lerner, R. Sommariva, T.S. Bates, D. Coffman, P.K. Quinn, J.E. Dibb, H. Stark, J.B. Burkholder, R.K. Talukdar, J. Meagher, F.C. Fehsenfeld, and S.S. Brown, High levels of nitryl chloride in the polluted subtropical marine boundary layer, Nature Geoscience, doi:10.1038/ngeo177, 2008.