Recognition of research achievements and other accomplishments of CSD staff who have received recent awards and honors.
The University of Colorado CIRES Rendezvous on May 13th recognized several of our colleagues with the 2016 CIRES Outstanding Performance Award. In the category of Science and Engineering, Drew Rollins, Troy Thornberry, Laurel Watts, and Rich McLaughlin were recognized for developing a new laser-based instrument to measure SO2 at extremely low mixing ratios relevant to the stratosphere. Brian Lerner received the award in the Science and Engineering category for his work on developing one of the world's quickest and most automated systems to analyze whole air samples by gas chromatography-mass spectrometry (GC-MS). In the category of Service, Rick Tisinai, Gabi Accatino, and Cathy Burgdorf Rasco were recognized for their innovative and high impact design and application of new IT resources during the 2015 Chemical Sciences Division (CSD) review. More detail on their awards is given in the 2016 CIRES Rendezvous Program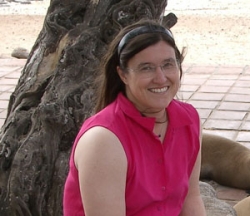 Karen Rosenlof has been promoted to NOAA Senior Scientist for Climate and Climate Change (ST). As described by the Office of Personnel Management, "This unique category of Federal jobs ... involves performance of high-level research and development in the physical, biological, medical, or engineering sciences, or a closely-related field. Many of the Federal Government's most renowned scientists and engineers serve in ST positions." Karen's scientific experience, accomplishments and contributions certainly place her in this esteemed category. NOAA has fewer than 20 Senior Scientists and ESRL now has two with Karen joining Pieter Tans of GMD.
Michael Trainer is recognized with the 2016 NOAA Distinguished Career Award. He was cited for developing a powerful strategy to use NOAA aircraft to advance our scientific understanding of pollution sources that cause poor air quality. Michael is highly deserving of this award for his many years of leadership and support of CSD aircraft sampling activities and the subsequent data analysis efforts. He receives the award at a ceremony in Silver Spring, Maryland.
Jane August received a Wonderful Outstanding Worker (WOW) Award from the Colorado Federal Executive Board. The WOW Awards recognize federal government employees who have demonstrated ongoing excellence or have made an extraordinary contribution to their customers, agency, or team. These are the folks you can always count on to provide the help necessary to get a job done whether the task is large or small. They consistently assist with a smile and a "CAN DO" attitude and exhibit a personal responsibility for accomplishing the goal. You can recognize any employee in your organization that fits this description by nominating them for a CFEB WOW Award. Jane has provided administrative support to our Tropospheric Chemistry and Regional Chemical Modeling Groups for the past 8 years. Jane's nomination highlights her above-and-beyond support, especially that provided in the last year during intense travel times and short staffing in the Division, and states "her commitment to the success of the Division is so strong that our researchers have commented that Jane treats us as part of her extended family."
Environmental Science & Technology featured a CSD coauthored paper on the cover of the May 17th issue. Jim Roberts and his colleagues received the accolade for their paper, "What we breathe impacts our health: improving understanding of the link between air pollution and health," West, J.J., A. Cohen, F. Dentener, B. Brunekreef, T. Zhu, B. Armstrong, M.L. Bell, M. Brauer, G. Carmichael, D.L. Costa, D.W. Dockery, M. Kleeman, M. Krzyzanowski, N. Kuünzli, C. Liousse, S.C.C. Lung, R.V. Martin, U. Pöschl, C.A. Pope III, J.M. Roberts, A.G. Russell, and C. Wiedinmyer, Environmental Science & Technology, 50(10), pp 4895-4904, doi:10.1021/acs.est.5b03827, 2016. Air pollution contributes to the premature deaths of millions of people each year around the world, and air quality problems are growing in many developing nations. While past policy efforts have succeeded in reducing particulate matter and trace gases in North America and Europe, adverse health effects are found at even these lower levels of air pollution.
Several CSD scientists are recognized for milestones in their years of service with CIRES: Drew Rollins (5), Karl Froyd (10), Si-Wan Kim (10), Jeff Peischl (10), Brandi McCarty (15), Richard Marchbanks (20), and Christoph Senff (20).
Rick Tisinai (as Secretary and CSD representative) and Anne Perring (as Vice Chair and CSD representative) on the CIRES Members' Council provided leadership and support for the very successful 2016 CIRES Rendezvous on May 13th. Several in CSD provided posters and attended the event.
Congratulations to all for these achievements.