President Obama has named Anne Perring, a CIRES atmospheric scientist studying atmospheric particles, climate and air quality at CSD, as one of 102 young scientists and engineers to receive the prestigious Presidential Early Career Award for Scientists and Engineers.
The award is the highest honor bestowed by the U.S. government on early career science and engineering professionals.
"I congratulate these outstanding scientists and engineers on their impactful work," President Obama said in a statement Monday. "These innovators are working to help keep the United States on the cutting edge, showing that Federal investments in science lead to advancements that expand our knowledge of the world around us and contribute to our economy."
"It's pretty exciting," said Perring. "I'm especially honored that my department, the Chemical Sciences Division at ESRL, was willing to put in the time to nominate me for this. That feels terrific."
Perring began working for CIRES, the Cooperative Institute for Research in Environmental Sciences (a partnership of NOAA and the University of Colorado Boulder) in 2009, and her research has focused on characterizing and understanding atmospheric particles ("aerosols") and how they affect climate and air quality. Having studied environmental disasters and supported global sampling missions, Perring is expanding her research into a new field that aims to understand "bioaerosols" – bacteria, fungi, and pollen in the air that can affect cloud formation, rain, snow, and human health.
Soon after starting at CSD, Perring was a member of a rapid assessment team that responded to the Deepwater Horizon oil spill in 2010. The team produced an independent assessment of the oil leak rate deep underwater, evaluated the air quality implications of the spill, and more. Perring focused on black carbon emissions from burning surface oil. The scientists' work, which earned a Colorado Governor's Award for High-Impact Research in 2012, is likely to inform decision-making during future spills.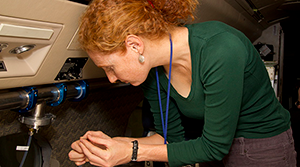 Perring has also traveled around the world on NOAA- and NASA-led missions to understand black carbon, a type of aerosol that can influence climate warming in significant ways. The work of Perring and her colleagues explored fundamental questions about the sources of black carbon, the ways it is removed from the atmosphere and its distribution around the world. She contributed to advances in measurement techniques, including airborne sampling strategies and measurements of water uptake by black carbon particles. Perring has also analyzed the atmospheric evolution of black carbon aerosol from biomass burning sources (including the Yosemite Rim Fire) which will improve how weather and air quality models represent the dynamics of the particles.
"Her work has not only contributed to NOAA's research in climate and air quality, but is expected to have lasting technical and scientific benefits for the wider scientific community," wrote NOAA's David Fahey, Director of CSD, in a letter nominating Perring for the award. "Dr. Perring is an exceptional young scientist."
Most recently, Perring has turned her science and engineering expertise to a new field for her: biology. "I've been trying to figure out how to measure and assess the importance of biological particles in the atmosphere," Perring said. In collaboration with colleagues at NOAA and CU Boulder's Mark Hernandez, she has worked to refine real-time measurements of these particles, which are notoriously difficult to sample. She has especially focused on airborne observations which allow broad geographic sampling and measurements of how the particles are distributed vertically in the atmosphere.
"She's really at the cusp of this new field, leveraging optical physics to understand the identity, distribution and abundance of these biological aerosols, and how they affect rain, snow, light and other important atmospheric processes." Hernandez said. "She deserves this. She's one of my favorite smart people on the planet."
Perring is one of three NOAA-affiliated scientists honored with the PECASE, according to the White House announcement: Also honored are Corey Potvin, a research meteorologist at the Cooperative Institute for Mesoscale Meteorological Studies at the University of Oklahoma and NOAA's National Severe Storms Laboratory; and Mandy Karnauskas, a research fishery biologist at NOAA Fisheries Southeast Fisheries Science Center.