Chemical Sciences Division scientist Dr. Joshua (Shuka) Schwarz receives the OAR Employee of the Year Award in the category of Personal and Professional Excellence for "his outstanding leadership in planning and executing the FIREX-AQ airborne study." This award recognizes OAR employees who have made outstanding contributions to promote excellence in the operations or programs of NOAA Research.
Over the past year, Shuka made outstanding contributions as a leader in the large-scale field mission Fire Influence on Regional to Global Environments and Air Quality (FIREX-AQ). FIREX-AQ is the most comprehensive investigation on the impact of wildfire and biomass burning smoke on air quality and weather in the continental United States. It is a joint venture led by NOAA and NASA involving multiple aircraft, ground-based mobile platforms, fixed ground-based measurement sites, and coordination with satellite instruments. With such a large number of participants with differing scientific goals, it was critical to have a strong leadership that keeps all units together, maintains scientific focus on key research subjects, and manages all research assets efficiently and effectively.
Shuka is honored for his work as one of four Flight Science Directors in charge of FIREX-AQ planning, platform coordination, and in-flight science decisions. Months before the airborne mission began, he helped set guidelines for how the mission flights would be conducted and what data and tools would be required for flight planning and execution. In the field, he planned mission flights deciding on which fires to sample, generated flight plans in coordination with the aircraft operations and the science team, and identified contingencies in the event fire conditions shifted during flight. On non-flight days, Shuka enabled and enhanced collaboration and coordination between multiple satellite, research aircraft, and ground-based measurement teams working with many smoke and fire modeling groups to produce the coordinated analyses that amplified the collective contributions and produced more comprehensive results than if each group had acted independently.
During the 8-week deployment, Shuka effectively communicated to media outlets and the general public during his time in the field. His skill in distilling key information down to nuggets understandable by the general populace was so effective that he became a local celebrity at the deployment site and was recognized by citizens in public places.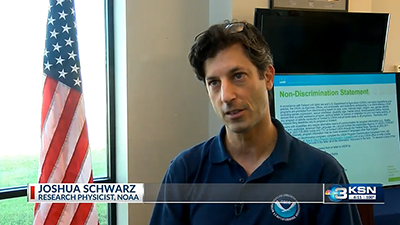 Beyond his scientific contributions to the mission, Shuka championed an improved workplace environment. Through his leadership, a workshop about diversity and harassment was arranged for the entire field mission team at the start of field deployment. This initiative, motivated by his past field mission experiences, promoted high morale in team members and contributed to mission success.
Overall, his outstanding scientific performance during the FIREX-AQ mission, including strengthening mission sampling strategies, promoting a discrimination-free workplace, and communicating clearly and effectively to the news media and public were pivotal to a mission successful beyond expectation. Shuka receives this well-deserved recognition at the NOAA OAR Awards Ceremony on December 2nd in Silver Spring, Maryland.