The CIRES Outstanding Performance award recognizes Cooperative Institute for Research in Environmental Sciences (CIRES) employees who have uncommon initiative, resourcefulness, and/or scientific creativity conducting research with potential to expand or change the direction of a particular field or discipline. It also recognizes participation in collaborative and/or multidisciplinary research that engages a broader cross-section than the researcher's typical scientific or engineering community.
---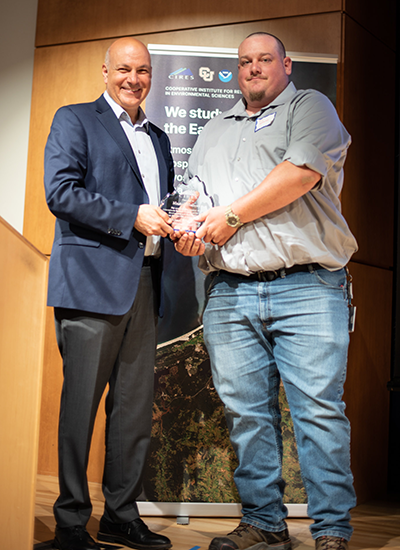 Chemical Sciences Laboratory scientist Max Holloway receives a CIRES Outstanding Performance Award in the Science and Engineering category for extraordinary support of the Atmospheric Remote Sensing group's instrument development and field deployments, inlcuding the CalFiDE wildfire research campaign.
Max Holloway's impressive skills in hardware design, CAD, mechanical fabrication, assembly and modification, as well as his extensive knowledge and skill in electronics, have propelled the group's instrument development and field campaign successes. Holloway was integral to the design, modification, and implementation of the latest generation of the 2-axis mirror scanner system for the MicroDop doppler LiDAR system. He served as lead engineer in uploading and installing research systems for several recent field campaigns including the California Fire Dynamics Experiment (CalFiDE), Southwest Urban NOx and VOC Experiment (SUNVEx), and System Integration and Test Experiment (SITE). His excellent coordination with external collaborators has resulted in rich data set used to better understand wildfire behavior, and the PUMAS platform is now a model for other research entities.
---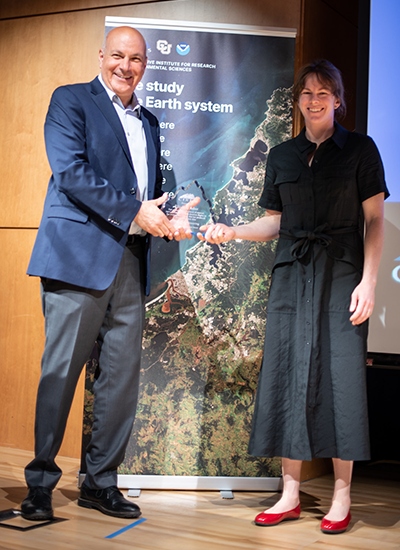 Lizzy Asher receives a CIRES Outstanding Performance Award in the Science and Engineering category for pioneering deployment of aerosol instrumentation for long-duration flights in the stratosphere – work that has produced illuminating new data.
Lizzy Asher is a key contributor to NOAA's Balloon Baseline Stratospheric Aerosol Profiles (B2SAP) project where she has pioneered the deployment of Portable Optical Particle Spectrometers (POPS) at multiple locations and at critical times to measure key episodes, such as the Raikoke (2019) and Hunga-Tonga (2022) volcanic eruptions, as well as the 2022 Australian New Year's fires. Her innovations and resourcefulness have allowed the POPS to survive long-duration flights in harsh conditions and for extended periods over large geographic regions. Asher's work has produced an entirely new type of stratospheric dataset which will answer long-standing questions about aerosol dispersion, variability, and background conditions in a critical region of the atmosphere.
---
These well-deserved awards were presented at the CIRES Rendezvous on 16 May 2023 at the University of Colorado Boulder.