R/V Ronald H. Brown Platform Info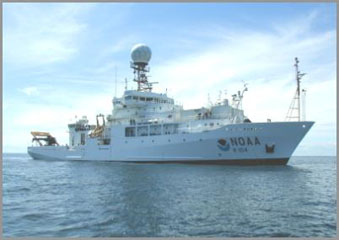 NOAA's Marine Operations Center (MOC) outlines the operational capabilities and shipboard facilities of the NOAA Research Vessel Ronald H. Brown. The instrumentation (payload) capacity of the NOAA R/V Ronald H. Brown is not limited by weight or power constraints. Typically, atmospheric sampling instruments are placed in seagoing laboratories (sea-tainers) on the forward upper (02) deck. Air samples are collected using towers or masts that extend 6-8 meters above the deck (approximately 16 - 18 meters above the water line). Sampling is conducted around the clock, unless contamination from the ship exhaust is expected to be prolonged. Remote sensing meteorological measurements are also included in the instrument package to define the structure and extent of the MBL and thus place the chemical measurements in context. Augmentation of the on-board radar wind profiler with additional lidar instruments is critical for this activity.
Performance Specifications and Facilities

---

Parameter
Specification
Length (ft/m)
274 / 83.5
Range (nm/km)
11,300 / 20,900
Endurance (days)
35
Cruising speed (kts / mps)
12 / 6.2
Maximum speed (kts / mps)
15 / 7.7
Officers / Engineers / Crew
5 / 4 / 16
Scientific staff
34 (maximum)
Laboratory/office space (sq. ft.)
4100
Telecommunications, data
INMARSAT-A
Telecommunications, voice
Cell & satellite
phones, VHF radios

---
The ship is capable of staying out to sea for long periods, which allows for repeated sampling of air masses in a particular region, such as the Gulf of Mexico. However, with an average cruising speed of 12 knots the ship is not a rapidly moving platform. Within certain constraints the NOAA R/V Ronald H. Brown is capable of extended near-shore running, which is especially valuable for examination of pollution plumes advected off the shore and for examination of meteorological phenomena such as land-sea breeze effects. The ship is fully capable of nighttime operations, though with some restrictions when near shore.
Transport of polluted air within the Gulf of Mexico plays an important role in shaping the air quality in coastal Texas. These same pollutants can also affect the regional radiation budget, as well as precipitation and the lifetime and extent of clouds. The polluted air is a result of both re-circulation of pollution from urban areas within Texas and long-range transport. Over the Gulf of Mexico the marine boundary layer (MBL) can act as a huge chemical reactor, converting primary pollutants like nitrogen oxides and organics into more toxic secondary pollutants like ozone and fine particles, which can be transported back onto shore by the land-sea breeze circulation.
An instrumented ship is an ideal platform to study the meteorological and chemical processes occurring off the coast of Texas and along the Houston and Galveston Ship channels. A ship can be used to sample polluted air masses as they move offshore or onshore and study the chemical transformations in the polluted marine boundary layer. Indeed, deployment of NOAA R/V Ronald H. Brown during NEAQS 2002 and NEAQS-ITCT 2004 demonstrated unequivocally the value of this platform for providing unique sampling opportunities, unlike those from on-shore sites, which yield data that are frequently difficult to interpret due to contamination by local land-based sources, and unlike those from aircraft, which have short duration and result in limited data sets.