Fires, Asian, and Stratospheric Transport -
Las Vegas Ozone Study (FAST-LVOS)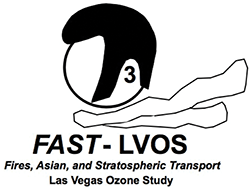 Where: Clark County, Nevada
When: May - June 2017
What: To better understand the causes of high-ozone events in Clark County, with emphasis on characterizing the roles of emissions from regional wildfires and pollution from southern California in addition to transport from the stratosphere and from Asia.
Who: Investigators from the NOAA Earth System Research Laboratory (ESRL) Chemical Sciences and Global Monitoring Divisions, the Cooperative Institute for Research in Environmental Sciences (CIRES) at the University of Colorado Boulder, Scientific Aviation, and the NASA Alpha Jet Atmospheric eXperiment (AJAX) Project. Modeling support provided by colleagues at the NOAA Geophysical Fluid Dynamics Laboratory (GFDL).
Funding for the study is primarily provided by the Clark County Division of Air Quality.