Seminar
Transmission of SARS-CoV-2 and Other Viruses in Aerosols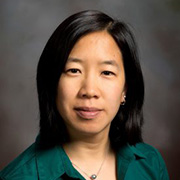 Linsey Marr
Virginia Tech
Wednesday, 23 September 2020
10:00 am Mountain Time
webinar only
Abstract
There is growing evidence that aerosols are an important route of transmission of COVID-19. The virus that causes the disease, SARS-CoV-2, has been found directly in the exhaled breath of patients and in the air of hospital rooms, and it can survive in aerosols for many hours. Certain superspreading events are best explained by aerosols. Transmission of infectious disease by aerosols is a highly interdisciplinary topic that draws upon epidemiology, virology, and aerosol science. Breathing, talking, coughing, and sneezing release respiratory droplets spanning a wide range of sizes. These may contain virus if a person is infected. Physically, virus-laden droplets are subject to the same transport and removal mechanisms as are airborne particles, so we can apply fundamental principles about particle behavior to understand the dynamics of virus in the air. Evaporation of respiratory droplets leads to shrinkage and changes in chemical composition, such as altered pH, increased salt and protein concentrations, crystallization, or phase separation, that may affect virus viability. Knowledge about transmission of COVID-19 and other disease by aerosols emphasizes the importance of interventions such as distancing, masks, and good ventilation.
---
Linsey Marr is a professor at Virginia Tech in the Department of Civil and Environmental Engineering. She earned a B.S. degree in Engineering Science from Harvard University and a Ph.D. in Civil and Environmental Engineering from UC Berkeley. Following a postdoc at MIT, she joined the faculty at Virginia Tech. Her research focuses on air quality, nanomaterials, and bioaerosols. She received a National Institutes of Health New Innovator Award in 2013 and currently serves on the National Academies of Sciences, Engineering, and Medicine's Board on Environmental Studies and Toxicology. Her work on COVID-19 transmission has been featured by the New York Times and NPR.
ALL Seminar attendees agree not to cite, quote, copy, or distribute material presented without the explicit written consent of the seminar presenter. Any opinions expressed in this seminar are those of the speaker alone and do not necessarily reflect the opinions of NOAA or CSL.