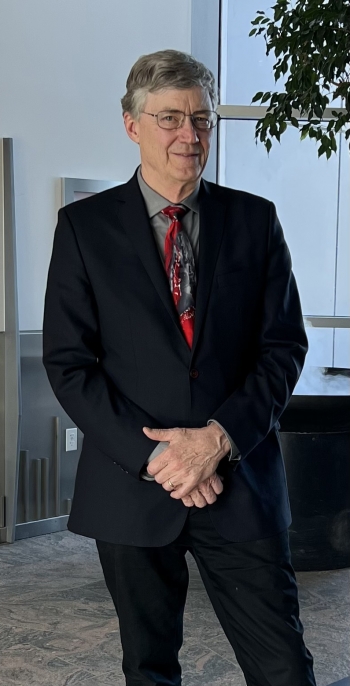 Awards / Memberships
Honorary Doctor of Science Degree from the University of Wisconsin - Madison, 11 May 2018.
Ozone Awards 2017, Montreal Protocol Ozone Secretariat, Scientific Leadership Award to Guus Velders' Team, 24 November 2017.
2013 Distinguished Alumni Award, Physics Department, University of Wisconsin, Madison, WI, 3 May 2013.
Co-recipient of the U.S. Department of Commerce Bronze Medal for 'Superior Federal Service, January 2013, For the successful demonstration of the Global Hawk Unmanned Aircraft Systems for NOAA's Climate Goal.'
Colorado Governor's Award for High-Impact Research, Member of a team of 34 scientists honored "for providing exceptional scientific service, in a time of urgent national need, by assessing the potential air quality risks posed by the 2010 oil spill in the Gulf of Mexico, and calculating independent estimates of the oil leak rate and analyses of the fate of the leaked oil in the environment," 2012.
Federal Player of the Week. Washington Post and Partnership for Public Service, Washington, DC, 9 March 2010.
Recipient of the 2009 Dr. Daniel L. Albritton Outstanding Science Communicator Award from the NOAA Office of Oceanic and Atmospheric Research.
Co-recipient of the 2008 Level II Scientific and Technological Achievement Award (STAA) from the U.S. Environmental Protection Agency (EPA) for Synthesis and Communication of Stratospheric Ozone and Climate Science, February 2009.
Recipient of the 2008 Stratospheric Ozone Protection Award from the U.S. Environmental Protection Agency (EPA) for 'Outstanding scientific contributions to stratospheric ozone protection.'
Co-recipient of the NOAA Administrator's Award in July 2008 for 'Outstanding dedication to developing U.S. Climate Change Science Program (CCSP) Synthesis & Assessment Products integrating climate research for decision support.'

Fellow of the Cooperative Institute for Research in Environmental Sciences (CIRES), University of Colorado, Boulder, Colorado, April 2003 - present.
Fellow of the American Geophysical Union, 2002, for 'Elucidating the role of nitrogen oxides in the stratosphere via field measurements and interpretations.'
Member of the Observing Facilities Assessment Panel (OFAP), National Center for Atmospheric Research, Boulder, CO, November 2007 - present.
Member, American Geophysical Union, 1991 - present.
Member, American Physical Society, 1978 - present.