Chemistry & Climate Processes: Products
SWOOSH: Stratospheric Water and OzOne Satellite Homogenized data set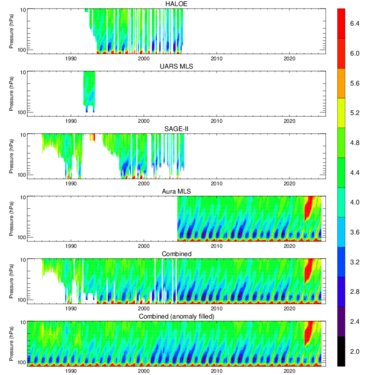 The Stratospheric Water and OzOne Satellite Homogenized (SWOOSH) data set is a merged record of stratospheric ozone and water vapor measurements taken by a number of limb sounding and solar occultation satellites over the previous ~30 years. The SWOOSH record spans 1984 to present, and is comprised of data from the SAGE-II/III, UARS HALOE, UARS MLS, and Aura MLS instruments. The measurements are homogenized by applying corrections that are calculated from data taken during time periods of instrument overlap.
The primary SWOOSH data product consists of monthly-mean zonal-mean values on a pressure grid. In addition to the primary (zonal-mean) grid, SWOOSH data are also available on 3D (longitude/latitude/pressure), equivalent latitude, and isentropic grids.
The gridded data include the mean, standard deviation, number of observations, and mean uncertainty from each instrument. Also included is a merged (multi-instrument) product based on a weighted mean of the available measurements. Because the merged product contains missing data, a merged and filled product is also provided for (e.g., modeling) studies requiring a continuous dataset.
Point of Contact: Sean Davis, NOAA
Publications
Data Access
---
Documentation
If you use this data set for a publication, please cite: Davis, S. M., Rosenlof, K. H., Hassler, B., Hurst, D. F., Read, W. G., Vömel, H., Selkirk, H., Fujiwara, M., and Damadeo, R.: The Stratospheric Water and Ozone Satellite Homogenized (SWOOSH) database: A long-term database for climate studies, Earth System Science Data, doi:10.5194/essd-8-461-2016, 2016.