Potential Instrumentation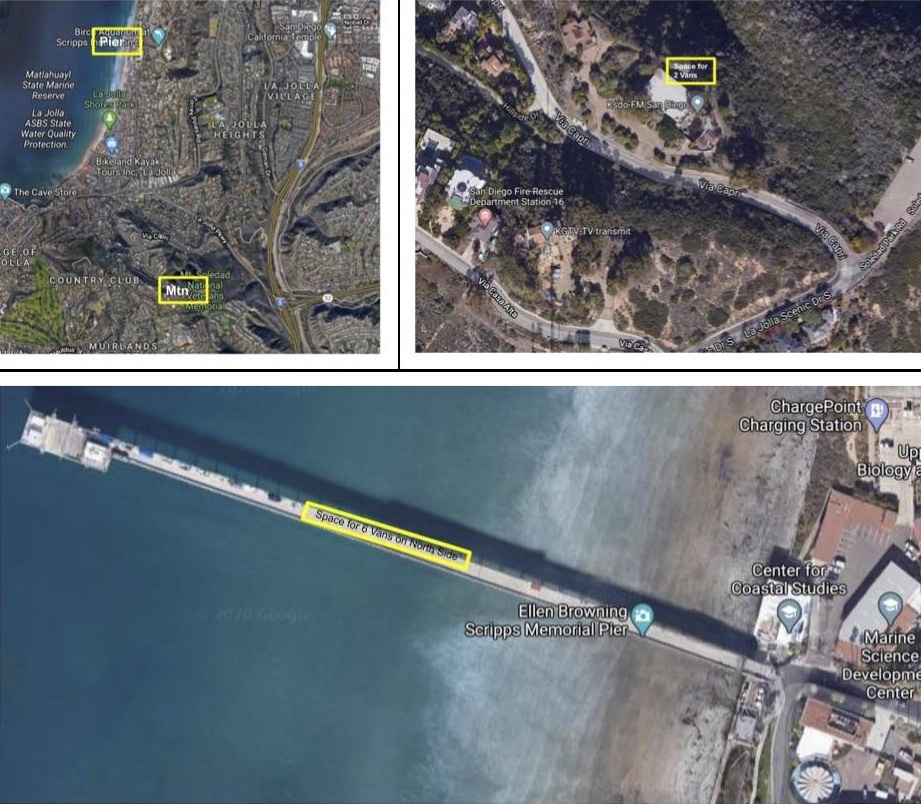 EPCAPE will locate most of the AMF1 instrumentation at the main site at Scripps Pier and a few additional instruments at the Scripps Mt. Soledad site. Below-cloud instrumentation, including cloud, precipitation, radiation, and aerosol instruments will be situated on the Scripps pier. Additional instrumentation (scanning radar) will be located at the Mt. Soledad site, located less than 2 km inland (250 m above sea level), which will allow for sampling downwind of the pier below, in, and above clouds depending on conditions. Statistics are not available on how frequently the Soledad location is below, in, and above cloud (other than the seasonally limited prior study), as that will be an important outcome of this 12-month data set.
The resources from ARM for this campaign are AMF1, including standard meteorological instrumentation, a broadband and spectral radiometer suite, and remote-sensing measurements including lidars and radars, plus the AOS system for aerosol observations. AMF1 is well suited for this deployment.
ARM Instruments Requested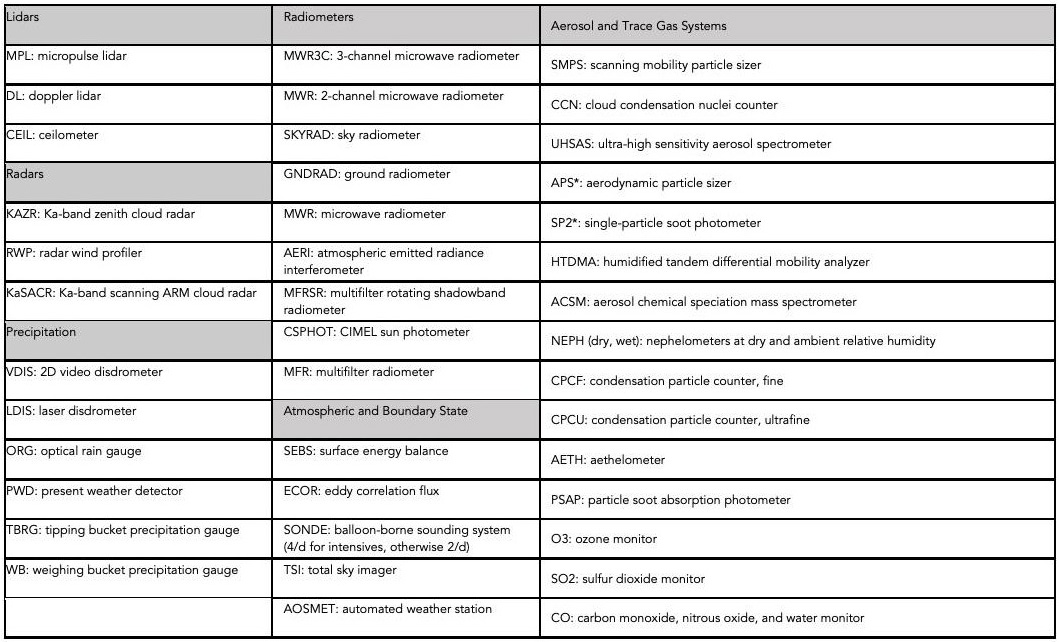 Russell will provide filter sampling for organic functional groups (FTIR) and elements (XRF) at the Scripps pier to complement the chemical analysis available from the AMF1 ACSM. This sampling will be housed in an AMF1 AOS van at the pier. Dan Lubin will contribute a shortwave spectroradiometer for measurement of shortwave spectral irradiance between 350 and 1700 nm complements the mid-infrared AERI radiance measurements, in that cloud optical properties (optical depth and effective radius) can be retrieved under thicker clouds that emit in the longwave as blackbodies (with no spectral sensitivity to microphysics). Delphine Farmer will measure particle fluxes at Scripps pier.
UCSD (Russell), UCLA (Suzanne Paulson), and NCSU (Markus Petters) will deploy instruments at Mt. Soledad for in-cloud sampling of detailed aerosol chemical composition, including offline filter analysis. The Mt. Soledad measurements will include aerosol size distributions, SP2, CCN, and aqueous OH radical measurements, as well as a high-resolution, time of flight, event-enabled Aerodyne AMS to provide aerosol composition and concentration for comparison to the AOS ACSM deployed at the pier. Rachel Chang (Dalhousie) plans to deploy the fog droplet monitor at this site to characterize the droplet size distribution in cloud. Environment and Climate Change Canada (John Liggio, Jeremy Wentzell, Michael Wheeler, Alex Lee) is providing a Brechtel ground-based CVI for deployment at the Mt. Soledad site to enable in-cloud composition sampling of droplet residuals. Liggio has support to bring a chemical ionization mass spectrometer, which has previously demonstrated at Mt. Soledad that cloud water chemistry was likely responsible for enhancements in low molecular weight polar organics such as isocyanic (HNCO) and formic acids in cloud droplets, with scavenging efficiencies beyond what can be expected from Henry's Law solubility. Smith will also be measuring ultrafine particles at Mt. Soledad.
Potential instrumentation for Mt. Soledad between February 2023 and February 2024
Inlet column indicates isokinetic (aerosol), CVI, switched between inlets, or duplicated on both inlets.
Measurement
Instrument
Inlet
PI
Institution
Evaporates cloud droplets and provides residual particles to other instruments
Brechtel Counterflow Virtual Impactor (CVI)
N/A
Michael Wheeler
ECCC
Number distribution of particles (0.02-0.9 µm)
Brechtel Differential Mobility Analyzer (DMA)
Switched
Lynn Russell
UCSD
CCN number concentration and supersaturation spectra of particles
for 0.07-0.6% supersaturation
DMT Cloud Condensation Nuclei (CCN) Counter
Switched
Markus Petters
NCSU
CCN number concentration and supersaturation spectra of particles
for 0.1-1% supersaturation
Mini Handix CCN (5)
Both
Markus Petters
NCSU
Aerosol number distribution (0.15-3 µm)
Printed Optical Particle Spectrometer (POPS)
Switched
Markus Petters
NCSU
Number distribution of particles (0.5-10 µm)
TSI Aerodynamic Particle Sizer (APS)
Isokinetic
Markus Russell
NCSU
NR organic, sulfate, nitrate, chloride,
ammonium mass fragment concentrations (0.07-0.8 µm) every 5 min
Aerodyne High-Resolution Aerosol Mass Spectrometer (HR-AMS) with Event Trigger (ET)
Switched
Lynn Russell
UCSD
BC mass and number distribution (0.08-1 µm)
DMT Single-Particle Soot Photometer (SP2)
Switched
Michael Wheeler
ECCC
Gas-phase compounds ionized by Iodide
Aerodyne Chemical Ionization Mass Spectrometer (CIMS)
Switched
John Liggio
ECCC
Number size distribution of fog (cloud) droplets
Fog Droplet Monitor
N/A
Rachel Chang
Dalhousie
BC and aerosol light scattering/absorption coefficients
DMT Photoacoustic Extinctiometer (PAX)
Switched
Alex Lee
ECCC
Hydroxyl radical formation by particles using direct-to-liquid sampling and fluorescence
Direct-to-Liquid Cloud Droplet OH Burst (DtL-OH)
Switched
Suzanne Paulson
UCLA
Soluble metals by ICPMS and OH burst
Filters for transition metals and OH burst
Switched
Suzanne Paulson
UCLA
Chemical composition, hygroscopicity, and volatility of ultrafine particles
TDCIMS, UHPLC-HRMS, and H/VTDMA
Isokinetic
James Smith
UCI
Organic functional group and element concentrations
Filters for FTIR and XRF
Both
Lynn Russell
UCSD
Aerosol source for sized calibration particles
TSI Atomizer with DMA for size selection
N/A
Lynn Russell
UCSD
CO, NO, and NOx concentration
Teledyne CO, NO, NOx
Isokinetic
Lynn Russell
UCSD
Temperature, relative humidity, winds, pressure
Weather Station
N/A
Lynn Russell
UCSD