Platform: NYC Metro Ground Sites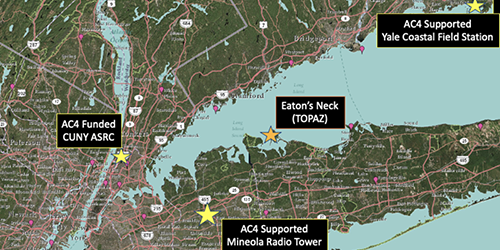 While the AEROMMA and coordinated aircraft assets will investigate the regional and large-scale urban air quality implications, ground site measurements will investigate diurnal profiles, emission ratios, diurnal emission fluxes, and long-term records.
Ground sites will be established for New York City metropolitan Measurements of Emissions and TransformationS (NYC-METS) during summer 2023. Researchers from Yale University, Aerodyne Research Inc., and other AC4-funded collaborators plan to study emissions and oxidative aging of non-traditional gas-phase organic compounds in the greater New York City metropolitan area. Intensive measurements will be conducted to coordinate with AEROMMA flights, from an elevated ground site at the The City University of New York (NYC CUNY) and a downwind ground site in Guilford, CT (NYC Yale Coastal Site).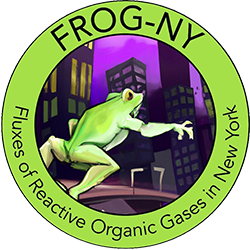 Further, Fluxes of Reactive Organic Gasses in New York (FROG-NY) applies the eddy covariance (EC) technique to derive a better understanding of urban emissions and deposition of volatile and semi-volatile organic compounds. Specifically, researchers from Colorado State University and the University of Minnesota will apply two complimentary time-of-flight chemical ionization mass spectrometry (ToF-CIMS) instruments to directly quantify the fluxes, vertical gradients, and concentrations of an expansive suite of reactive VOCs (volatile organic compounds) from an existing 62-meter tower in metropolitan NY (NYC Mineola).
Coordinating ground site measurement activities around the U.S. include the Atmospheric Science and Chemistry mEasurement NeTwork (ASCENT), with a long-term monitoring site in Queens, NYC.