NOAA research has identified an emerging source of volatile organic compounds to the urban atmosphere that contributes to ozone and aerosol
More than 100 million Americans live in non-attainment areas for ground-level ozone.
Tropospheric ozone is a toxic air pollutant formed through reactions involving VOCs and NOx.
Volatile chemical products (VCPs) are emerging as a major urban source of petrochemical organics [McDonald et al., Science, 2018].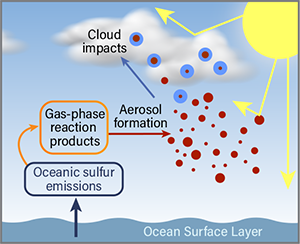 A recent NOAA discovery has redefined the marine sulfur cycle, prompting a renewed look at air-sea exchange
Oxidation of ocean-emitted dimethyl sulfide (DMS) produces sulfate aerosol, which in turn impacts albedo, cloud formation, and climate.
CSL's discovery of an additional DMS oxidation product (HPMTF) shows that the marine sulfur cycle in current models is incomplete [Veres et al., PNAS, 2020].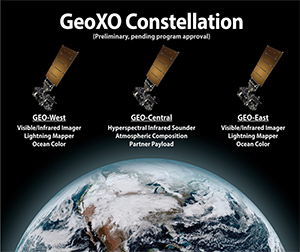 Geostationary remote sensing of atmospheric composition - validation and new scientific capability
The NASA Tropospheric Emissions: Monitoring of Pollution (TEMPO) instrument launches in January 2023
Opportunity for new science in emissions, air quality, climate with high spatial resolution, hourly satellite data
Validation mission for NOAA in preparation for the 2030's Geostationary Extended Observations (GeoXO) atmospheric composition instruments