NASA DC-8
AEROMMA has 150 flight hours for approximately 24 science flights, including test and transit flights, and consists of both a West and East coast deployment. West coast operations will be focused on the Los Angeles basin and the coastal Pacific marine environment. East coast operations will characterize emissions from a number of U.S. megacities.
We anticipate conducting up to 16 flights for urban areas covering weekday/weekend, urban/rural gradients, and diurnal cycles and half a flight each for the Central Valley and the agricultural areas in the upper Midwest. Depending on meteorological conditions each flight to a megacity can cover other smaller cities or more than one megacity. Two flights in Los Angeles and the Central Valley were already conducted during FIREX-AQ in 2019.
For every flight in urban areas, vertical profiles of in-situ measurements of NO2, HCHO, glyoxal, aerosol extinction and other atmospheric components for satellite science will be flown. Emissions and chemical transformation will be determined at plume height, most often in the boundary layer.
We estimate 10 flights dedicated to the survey of the marine atmosphere. West coast operations offer access to various high value targets: marine/urban interface, pristine low NOx marine environments, high DMS emission fields, and the tropical Eastern Pacific. We will largely focus on 3 regions of interest throughout the project: 1) southern, low altitude surveys of the tropics/subtropics with a focus on air/sea exchange, 2) observations in the North Pacific surveying sulfur chemistry and NPF, and 3) coastal Pacific (southern California) where we expect a confluence of NOx gradients from urban influence and high DMS emission fields.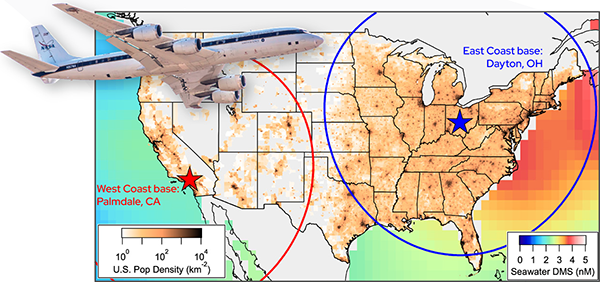 Priorities of the Cities for AEROMMA
Target Urban Flight Planning (updated 17 July 2023)