2022 AGES Workshop
Venue
Meeting Location
The workshop will be held in the main auditorium (C120) at the Sustainability, Energy, and Environmental Community (SEEC) building at the University of Colorado Boulder East Campus. Proceed through the main front doors of the SEEC building, to the auditorium right in front of you on the first floor. Breakout sessions will either be in the SEEC N224 or S228 Sievers conference rooms as indicated on the agenda (note lighter gray text). These conference rooms are both on the second floor of the SEEC building.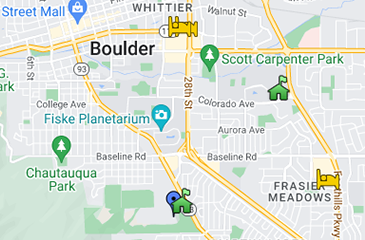 Event parking permits are available through CU Parking & Transportation Services: $ Parking for the AGES Workshop
Please be sure to enter your vehicle license plate correctly for proper validation and park in lot 556 on the northeast side of the SEEC building (see map). The permit does not need to be printed or displayed.
Local Dining
Coffee/Tea, light breakfast, and snacks will be provided. Lunch is on your own. The SEEC Café in the auditorium serves breakfast and lunch. Note that this cafe only accepts credit/debit cards and not cash. There are also numerous options a short drive or bike ride away.
Health
We will follow all COVID-19 regulations required by the University of Colorado. Refer to the masking requirements and current community spread for the latest information. While masks are currently optional on the University of Colorado campus, we encourage those who prefer to do so to continue wearing them. Properly fitted N95 or KN95 masks remain an effective tool for preventing transmission, especially in conjunction with vaccination.