Education & Outreach
CSL believes strongly in the need to foster the next generation of atmospheric scientists and to make CSL science accessible to numerous stakeholders and user groups. CSL scientists host interns, advise graduate students and post doctorate fellows, and participate in K-12 and college educational events. In addition to engaging in educational efforts, CSL scientist also participate in outreach efforts, promoting and translating research through a variety of communication products that are customized to an array of audiences – our stakeholders and the public. CSL delivers cohesive messages on its scientific research in ways that are meaningful and actionable through peer-reviewed publications, fact sheets and reports, assessments, videos, posters, StoryMaps, and presentations. Through its education and outreach efforts, CSL aims to cultivate a science informed society.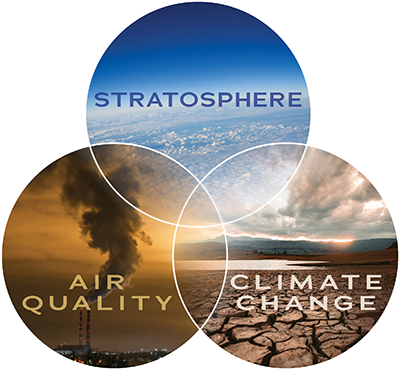 CSL's missions is to advance scientific understanding of the chemical and physical processes that affect Earth's atmospheric composition. CSL uses state-of-the-art instruments and models, world-class laboratory studies, and unparalleled field campaigns to perform research on key societal issues including air quality, climate, and the stratosphere. The atmosphere is one of the integrators of the Earth system and knows no boundaries. Therefore, the three research themes of CSL overlap with each other indicating that one theme cannot be researched without understanding the other themes. This integrated approach to atmospheric chemistry and composition research at CSL fosters a vibrant, robust, and collaborative atmospheric research environment across its eight research programs.