PickUp based Mobile Atmospheric Sounder (PUMAS)
Where: Front Range of Colorado
When: June - October 2020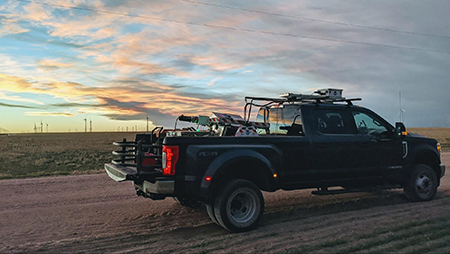 Coupling Doppler lidar measurements with mobile platforms allows researchers to investigate the spatial and temporal evolution of complex flows on regional scales. Due to COVID concerns, aircraft campaigns for 2020 were postponed creating the opportunity to mount the ARS Micro-pulse Doppler (MicroDop) lidar in the bed of the CSL Ford pickup truck. The Doppler lidar was coupled with a motion stabilization platform which allowed for stabilization during vertical staring measurements and scanning during azimuthal scans.
The flexibility of the mobile platform allowed us to investigate several complex flow phenomena along the Colorado Front Range. The main area of focus was on the development and propagation of the upslope flow between Boulder and Nederland, Colorado. This data is used for model development and validation of regional models.
Additionally, test drives were performed to characterize wind farm wakes at the Cedar Point Wind Farm in Limon, Colorado, as well as plume dynamics from the East Troublesome fire in October 2020.