Chebogue Point Ground Site Layout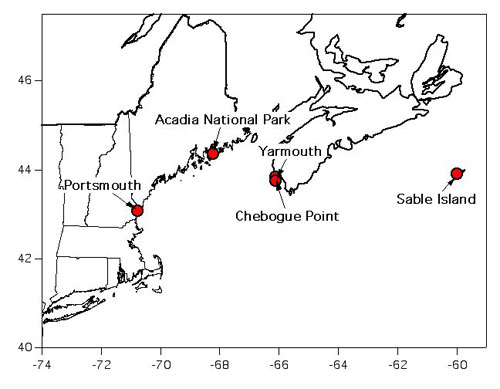 Four trailers are expected at the site. Three of those involve instrumentation that must sample in a consistent manner. (The 4th trailer will house the Dalhousie University Lidar, and can be positioned at some convenient location.) Below is a suggested arrangement of the three trailers with one tower for mounting inlets at a common altitude of 10 meters. The tower will be much like the one used at Trinidad Head in 2002. For purposes of planning inlet plumbing, it is assumed that the trailers are backed into position. The labeling on the trailers indicates equipment in each with the following additions:
Aerodyne trailer includes: Hugh Coe (UMIST)
CMDL trailer includes (requires arrangement shown): Jim Roberts (NOAA Aeronomy Lab)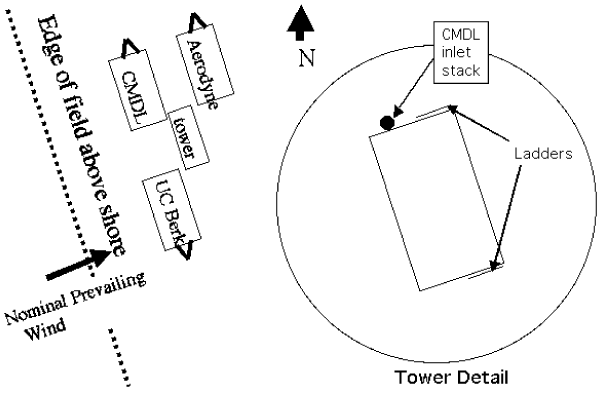 Inlets
CMDL trailer: Jim Roberts - fast flow 3/8" or 1/2" PFA inlet with rain shield, probably on a 1/2" aluminum rod fixed to the top rail.
UC Berkeley trailer: Ron Cohen - Ovens will be housed in two separate steel boxes, both 4" x 4" x 60", which are mounted side-by-side on Unistrut. The strut is then mounted to the tower. Air is initially drawn through a 5" long 1" diameter section of PFA protrudes from one box. I plan to have the ovens horizontal, unless that means they won't sample the best wind direction, because mounting them vertically makes them harder to work on. There will be a separate steel box measuring 6" x 8" x 10" that contains the AC and DC electrical connections and some solenoids, fuses etc that should be mounted within a few feet of the ovens. Between the tower and the trailer we will have six 1/4" OD PFA tubes, one similar length of cheaper tubing for pullback, an extension cord to deliver power (max 8 A to the ovens), a 25 conductor cable and a possibly a few other wires. We expect 60 feet is sufficient length to reach between the inlets and the instrument in the trailer.
DRUM sampler - 2 X 0.5 m2 on upper level, 0.5 m2 on lower level.
Electrical Service
Dalhousie trailer: 100A, 220V
UC Berkeley trailer: 60A, 220V
CMDL trailer: 60A, 220V
Aerodyne trailer: 60A, 220V
Wind profiler: 20 amps, 110V (hook into CMDL trailer)
DRUM and HiVol sampler: 20 amps, 110V (hook into CMDL trailer)
Communications
One land phone line
Satellite internet access