Twin Otter Platform Info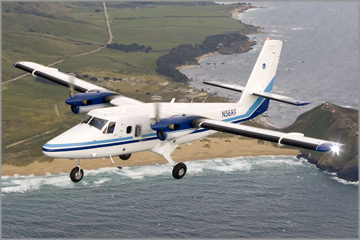 The DeHavilland Twin Otter (DHC-6) is a high-winged, unpressurized, twin-engine turboprop aircraft, which can be flown at slow speeds of 80-160 knots. Originally designed to operate in the harsh environment of Northern Canada and Alaska, Twin Otters are highly maneuverable, versatile aircraft that have established a legendary reputation for ruggedness and reliability. Their short takeoff and landing capability gives them the ability to operate from places accessible to few other aircraft.
NOAA's Aircraft Operations Center at MacDill AFB, FL maintains and operates the De Havilland Twin Otter aircraft, which are typically equipped with color weather radar, radar altimeter, dual GPS/Loran-C navigation systems with scientific data drops, and camera ports in the nose and belly areas. A standard flight crew consists of two NOAA pilots.
Throughout their years of service, the NOAA Twin Otters have participated in a diverse range of scientific projects, among them low-level slow speed aerial surveys of marine mammals, aerial video surveys of coastal erosion, various remote sensing missions, atmospheric air chemistry sampling, and atmospheric eddy flux and concentration gradient assessments.
Specifications and Operational Parameters

---

Crew
2 pilots and up to 6 scientists
Air speeds
80 - 160 knots
Ceiling
12,500 feet (without supplemental cabin oxygen)
25,000 feet (with supplemental cabin oxygen)
Typical Range
~ 500 nm
Payload
~ 1900 lbs (crew & scientific instruments)

---