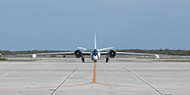 Field Campaign Data archived by NASA
Instruments have also flown on the NASA WB-57 and the NASA DC-8. Data from multiagency field campaigns led or co-sponsored by NASA are available in the NASA ESPO Data Archive:
Campaign
Dates
Platform
Location
Study
FIREX-AQ
Summer 2019
NASA DC-8
western US
Fire Influence on Regional to Global Environments and Air Quality
ATom
Summer 2016,
Winter 2017,
Fall 2017,
Spring 2018
NASA DC-8
global
Atmospheric Tomography Mission
SEAC4RS
Aug - Sept 2013
NASA DC-8
Houston, TX
Studies of Emissions and Atmospheric Composition, Clouds and Climate Coupling by Regional Surveys
MACPEX
Mar - Apr 2011
NASA WB-57
Houston, TX
Mid-latitude Airborne Cirrus Properties Experiment
TC4
Jun - Aug 2007
NASA DC-8
Costa Rica and Panama
Tropical Composition, Cloud and Climate Coupling
CRAVE
Dec 2005 - Mar 2006
NASA WB-57
Costa Rica
Costa Rica Aura Validation Experiment
Pre-AVE
Jan - Feb 2004
NASA WB-57
Houston, TX and Costa Rica
Pre Aura Validation Experiment
CRYSTAL-FACE
May - Aug 2002
NASA WB-57
Key West, FL
Cirrus Regional Study of Tropical Anvils and Cirrus Layers - Florida Area Cirrus Experiment
ACCENT
Mar 1999 - Sept 2000
NASA WB-57
Houston, TX
Atmospheric Chemistry of Combustion Emissions Near the Tropopause
WAM
Mar - May 1998
NASA WB-57
Houston, TX
WB-57F Aerosol Mission
Additional Data Sets
Brock, C. A., Froyd, K. D., Dollner, M., Williamson, C. J., Schill, G., Murphy, D. M., Wagner, N. J., Kupc, A., Jimenez, J. L., Campuzano-Jost, P., Nault, B. A., Schroder, J. C., Day, D. A., Price, D. J., Weinzierl, B., Schwarz, J. P., Katich, S. Wang, J. M., Zeng, L., Weber, R., Dibb, J., Scheuer, E., Diskin, G. S., DiGangi, J. P., Bui, T., Dean-Day, J. M., Thompson, C. R., Peischl, J., Ryerson, T. B., Bourgeois, I., Daube, B. C., Commane, R., and Wofsy, S. C., ATom: Comprehensive Aerosol Properties, 2016-2018 [dataset] ORNL DAAC, Oak Ridge, Tennessee, USA. doi:10.3334/ORNLDAAC/1908, 2021.
The Particle Analysis by Laser Mass Spectrometry (PALMS) instrument measures the chemical composition of individual aerosol particles. An instrument reference is intended to provide a convenient interactive data display to foster more collaboration on data analysis from a rich and unique data set: PALMS instrument data (includes NASA ACCENT and WAM mission data).