State of the Science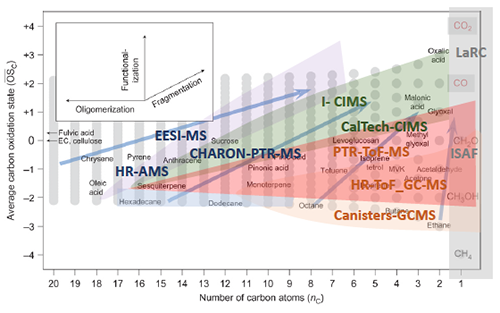 Previous airborne field studies have demonstrated the pervasiveness of biomass smoke in the atmosphere. However, FIREX-AQ would be the first field study specifically dedicated to the sampling and characterization of fires and their impacts from the point of emission.
To understand the impact of smoke on the local and regional level, scientists must have accurate estimates of what's burning, the quantity of emissions produced, the composition of those emissions and how those chemical compounds evolve in the atmosphere as they react with sunlight and other atmospheric constituents, including pollution sources. Scientific knowledge in each of these areas will need to advance in order to provide a detailed understanding of how smoke impacts air quality and climate, and to improve the efficacy of satellites in capturing data relevant to these goals.
Consider estimates of fuel burned by a fire. The total amount of fuel contained in a given type of ecosystem can vary by a factor of 100. The amount of fuel that actually burns on a given day can further vary up to 10 percent, depending on fuel moisture, fire weather and fire activity. That's a tremendous amount of variability.
Data that would help scientists calculate emissions estimates from wildland fires and prescribed burns is relatively sparse. The most comprehensive study on emissions factors drew from just 39 fires sampled during eight field campaigns. For context, the National Interagency Fire Center tracked more than 58,000 wildfires in 2018. Airborne studies specific to crop burning adds only 12 more fires to the data set.
Evolving analytical tools have allowed researchers to make significant progress in defining and quantifying the chemistry of biomass burning emissions. But factors that govern the physical and chemical transformations that take place as fire emissions are transported, diluted, and exposed to reactive molecules processes are still poorly understood.
Fire emissions contain a number of unusual compounds. New compounds are being discovered as more sophisticated analytical techniques have been applied. The fundamental chemistry of some of these compounds in the atmosphere is unknown. Individual fire plumes can have very different behaviors.
Scientists want to learn more about primary and secondary particles, and their role in creating photochemical ozone. Emission of toxic materials needs further investigation. Night-time plume evolution, air quality impacts, and exposure have not previously been studied. This information must be incorporated into smoke transport and air chemistry models in order to support short-term to long-term management and policy decisions.
Satellites can be the most effective platform for estimating wildfire emissions, but their estimates depend on accurate data on burned area, fuel loading, fuel consumption and fuel-specific emission factors. Accurate data is often difficult to obtain.
Still, satellites currently do a better job of estimating wildfire emissions than emissions from agricultural burns because they are based on satellite fire-detection methods that have limited resolution. Research suggests small fires can add anywhere from 4 to 26 percent to the total burned area from which emissions are calculated.
In sum, the science of smoke is emerging as an important discipline within the field of atmospheric research, particularly for understanding the impact of fires on air quality and climate change. FIREX-AQ is designed to advance scientific understanding of key elements within this field to provide more useful and more accurate information for decision makers.