Wildfires get the attention, but agricultural burning has major impacts as well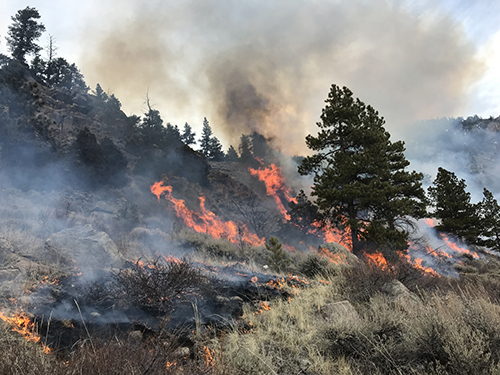 Wildfires burn slightly more fuel and therefore have overall larger emissions, but agricultural fires dominate the area burned, the number of fires and the length of the burning season. Prescribed fire is an increasingly popular tool for land managers seeking to manage wildland fuel loads and reduce the risk of catastrophic fire.
Wildfires are uncontrolled and burn until fuel runs out or weather conditions change. They can generate large volumes of smoke over broad areas, impacting local and regional air quality for prolonged periods. Smoke from wildfires can be transported thousands of miles - literally from coast to coast - and can affect large regions of the U.S. at a time. While air quality has improved over much of the U.S. over the past 30 years, a 2018 study found that air quality in wildfire-prone states in the northwestern U.S. is instead getting worse.
Less well understood is the impact of smoke from prescribed fires and agricultural burns, particularly in the southern U.S.
Prescribed fires are planned. They're generally smaller and less intense than most wildfires, but occur more frequently throughout the year and are generally closer to developed areas. They are usually ignited during periods that minimize population exposure and air quality impacts, but can cause regional backgrounds to increase, and are responsible for a large fraction of fine particulate emissions. To date, agricultural fire outputs are still poorly represented in emission inventories.
FIREX-AQ will bring together hundreds of scientists from around the world to obtain detailed measurements of trace gas and aerosol emissions from wildfires and prescribed fires from aircraft, satellites and ground-based instruments. The goal is to understand how fuel and fire conditions at the point of ignition influence the chemistry of smoke, what conditions control the rise of smoke plumes, what happens to smoke as it is distributed in the atmosphere, and how does the chemical transformation of smoke impact air quality, and to a lesser degree weather, downwind. Finally, lessons learned from FIREX-AQ will be used to assess and improve the effectiveness of satellites for estimating the emissions from wildfires and prescribed burns.