Platform: NOAA-MET Twin Otter
Who: Investigators and mission support include NOAA, NOAA ESRL Chemical Sciences Division and university and contract research organizations.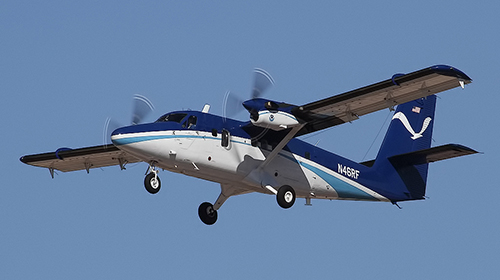 The FIREX-AQ NOAA-MET Twin Otter deploys to Boise, ID in July and August to characterize the horizontal and vertical wind fields, plume geometry, and fire radiative power associated wildland fires. Flights are planned to characterize the spatial structure and temporal evolution of the input wind field, the dynamics associated with plume rise, injection height and down wind transport of the plume. When flying over the fire, a copy of the remote sensing instrument package of the NightFOX UAS payload will provide information about fire radiative power.
NOAA's Aircraft Operations Center (AOC) in Lakeland, FL maintains and operates NOAA's aircraft assets. Among them are two De Havilland DHC-6-300 Twin Otter aircraft used for this study.