Platform: Ground Site

Boise, ID
Hosted by the Idaho Department of Environmental Quality (DEQ)
Observations and Sampling Location
Operating at the St. Luke's Meridian site 1 August - 10 September 2019:
Investigator
Affiliation
Instrument / Measurement Info
Idaho DEQ
Standard NCORE observations including CO, NOy, O3, PM2.5, etc.
Dan Jaffe
University of Washington
"Suitcase VOC sampler", spectrally resolved UV flux (with Flynn and Hall)
Ezra Wood
Drexel University
HOx, NO/NO2
Russell Long
Matt Landis
EPA Office of Research and Development
variety of instrumentation specific to their goals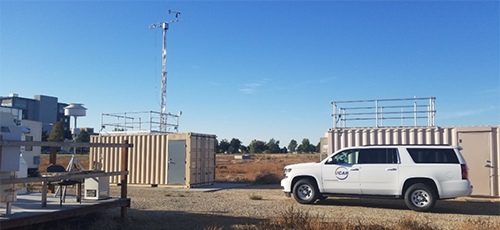 Key Research Goals
Evaluate different methods to get O3 production in smoke influenced air masses (e.g. NO*HOx, dO3/dT).
Evaluate consistency of extended Leighton relationship with observations of NOx and HOx.
Examine NOx and VOC sensitivity to O3 production in urban influenced/smoke plumes.
Examine J values as a function of PM in smoke plumes.
Test new OVOC sampler ("suitcase sampler") as a tool to identify presence of smoke at low concentrations in urban areas.