Platform: Ground Sites
Who: Investigators and mission support include Aerodyne Research Inc., University of Montana, Idaho Department of Environmental Quality, University of Washington; NASA Goddard; EPA Office of Research and Development, U.S. Forest Service; San José and San Francisco State Universities.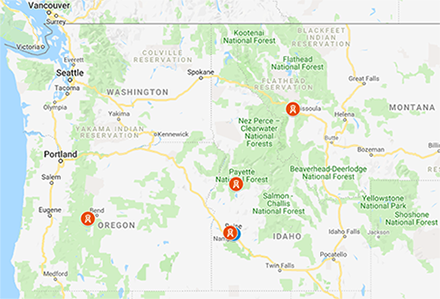 Ground-based measurements at multiple sites capture wildfire smoke and haze episodes impacting the surface. Smoke often settles into valleys at night where the Missoula, McCall and Boise ground sites can provide diurnal profiles to understand potential high exposures for residents at night. The Mount Bachelor Observatory is a high altitude site aimed at capturing long range transport of fire plumes. Instruments at these ground sites make observations during the FIREX-AQ study intensive July - September 2019:
Additional mobile ground-based measurement platforms can travel to wherever major fires burn, with higher priority given to fires that are impacting population centers (particularly the EPA MASIC sites in Boise, Missoula, and Reno). Mobile ground sites based from Missoula deploy 25 July - 15 August 2019 and are operated by:
EPA Office of Research and Development - platform focused on sensors and small form factor instruments in downwind communities.
U.S. Forest Service - platform getting as close as possible to fires with Federal Reference Method (FRM) and Federal Equivalent Method (FEM) research instruments to assess compliance with US air pollution standards designed to protect human and ecosystem health.
Additional ground-based activities are operated by:
California Air Resources Board - Mobile Measurement Platform (MMP) to study the interaction of urban and wildfire emissions in California.
University of California Riverside - Mobile laboratory isotope measurements in the environment / analysis vehicle for on-road capture of atmospheric data and observations (LIME/AVOCADO).
Lewis-Clark State College - Stationary ground sampling to measure human exposure to a variety of air toxics before and during wildfire seasons in the northwest.
and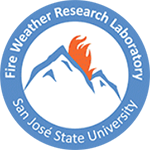 San José and San Francisco State Universities - California State University-Mobile Atmospheric Profiling System (CSU-MAPS) platform optimized for rapid deployment and wildfire research; team is fire line qualified.
San José State University - Mobile fire and fire weather monitoring; Wildfire Observing Facility platform carrying scanning Ka-band polarmetric Doppler radar.