BioCORN 2011

Biofuel Crops emission of Ozone pRecursors iNtensive (BioCORN)

Intensive I: 14 - 28 July, Intensive II: 15 - 31 August 2011

Ft. Collins, CO

Various ground-based instruments.

Investigators in this project include researchers from NOAA ESRL Chemical Sciences Division and the University of Colorado.
---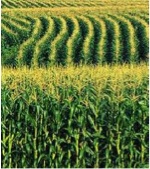 This project is designed to study the emissions of biofuel crops. Specifically, it will examine these science questions:
What are the dominant VOCs from biofuel crops: corn, poplars, switchgrass, and Miscanthus?
What are the likely oxidation products?
What is the total aerosol and ozone forming potential?
What biofuel plant species and/or cultivars have the lowest VOC/SVOC emissions?
Read more science and background details.